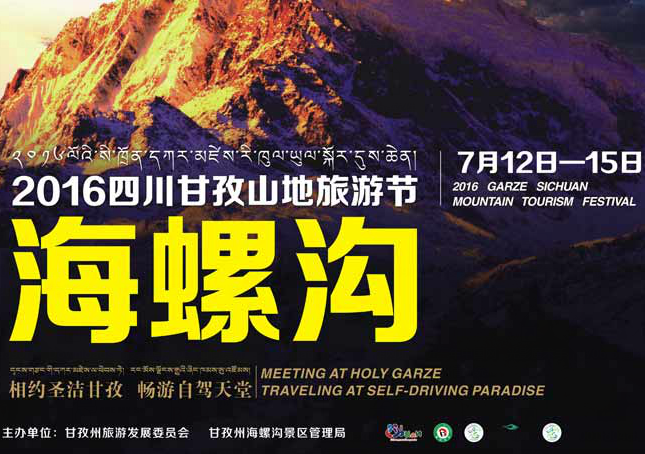 The 2016 Sichuan Ganzi Mountain Tourism Festival will be held in Hailuogou Scenic Area from July 12 to 15. A carnival of self-driving tours around the scenic area's glacier will take place simultaneously.
The events are sponsored by the People's Government of Ganzi and Sichuan Tourism Bureau, and organized by Ganzi Tourism Board and Hailuogou Administration Board.
During the festival, a conference on Ganzi's sustainable development and a professional forum on self-driving tours around Ganzi will also be held.
Self-driving tours around Ganzi will also be organized along selected routes.
The Hailuogou Scenic Area lies in the southeast of Ganzi Autonomous Prefecture of Sichuan Province on the eastern slope of Mount Gongga, 296 kilometers away from Chengdu.
With world-class tourism resources, Hailuogou is a state-level nature reserve, a national geological park and the only park in China that boasts glacier, virgin forest and hot springs at the same time.
As an important place along the Ancient Tea and Horse Road, it also features cultural diversity and the co-existence of people of different ethnic groups in harmony.
The scenic area is an ideal place to escape from the summer heat in July.