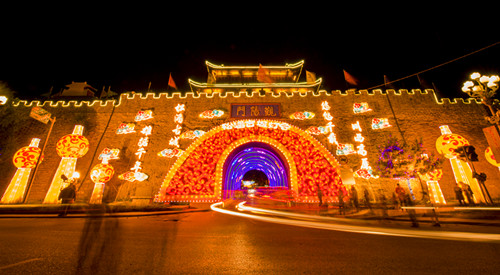 The first lights show in Songpan, an ancient city on the Qinghai-Tibet Plateau in Sichuan, will open on July 12 as a way to fully display the magical appeal of Songpan as a famous historical and cultural city.
Forty-nine sets of lights have been designed to decorate the ancient city during the show, each with a different theme.
The most eye-catching of the sets is the one named "Tea and Horse Trade." The set, 20 meters long, 2 meters wide and 6 meters high, reproduces a scene where people from all over the country brought their goods for trade to Songpan. The ancient city served as a bond for commercial trade and cultural exchanges between Central China and ethnic groups in the northwest in history.
Another set, named "Flowers all over Songzhou," features vegetations in Songpan. The great variety of local vegetations earned Songpan the praise of "Heaven on Earth" from an English botanist Wilson 100 years ago.
Songpan was built during the Tang Dynasty and thus has a profound history.
Ma Qian, the publicity head of Songpan, said that the lights show will be based on local history, culture, and folk customs. Efforts have been made to encourage visitors to participate in various activities such as riddle solving.
Great attention has been given to making the event low-carbon and environmental friendly. For example, fluorescent power was used to make the lights and modern LED lights were excellently combined with traditional skills.
The show will run through February next year.