The 2016 China (Dujiangyan) International Martial Arts Festival was held in Chongyi Township on Friday. Thirty-five domestic and foreign teams, which belong to different martial arts schools, attended the event, giving brilliant performances.
The festival, sponsored by Dujiangyan City Sports Administration and the People's Government of Chongyi Township, is designed to inherit the culture of Chinese martial arts and spread the spirit of the sport. Chongyi Township also hopes to promote local rural tourism by hosting the event.
He Daojun, master of the Qingcheng Daojun Martial Arts Club from Dujiangyan City, won warm applauses from the audience when he and his wife staged a stunning performance together. 
In history, Chengyi Township was a western courier station in Dujiangyan. With its profound martial arts culture, the town was awarded the title of "Hometown of Qingcheng Martial Arts" by Sichuan Provincial Cultural Department in 2014.
The Qingcheng school of martial arts originated from Mount Qingcheng, a sacred site for Taoism and a world cultural heritage.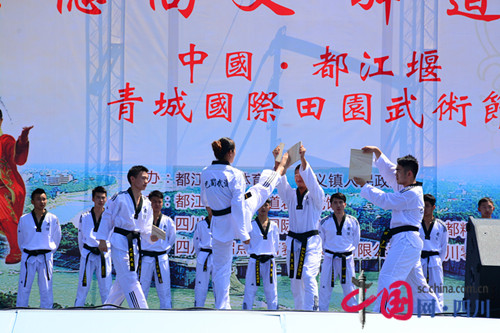 As Dujiangyan city strives to build itself into an international tourism city and a satellite city of tourism, leisure and vacation of Chengdu City, Chongyi is vigorously developing modern agriculture.
The township, which features idyllic natural settings, aims to develop the type of rural tourism that allows tourists to experience farm work. It will also exploit its unique martial arts culture and water conservancy culture to design a series of characteristic tourism goods, such as traditional handmade dolls and Qingcheng martial arts weapons.