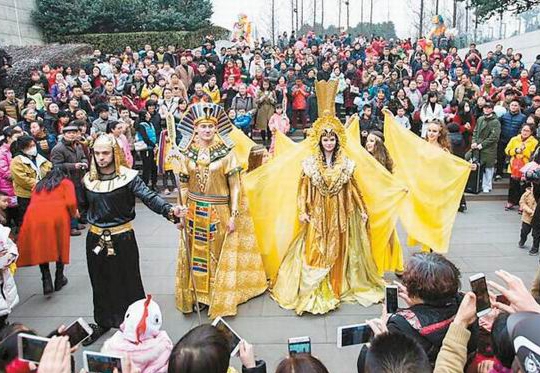 Jinsha Site Museum in Chengdu attracted a great deal of public attention during the 2017 Spring Festival with the Sun Festival it hosted from January 23 to February 12.
The festival is an exhibition featuring ancient Egypt as a world of pharaohs and gods.
Romantic gardens along the Nile, the ancient Shu Kingdom during the Three Kingdoms period and a thousand people performing sacrifice offering are also things not to miss at the exhibition.
A highlight of the exhibition is a performer dressed up as Cleopatra dancing with her maids on the stage. Her costume and accessories look exactly like those the real Cleopatra wore as revealed by cultural relics.
Ancient Egyptians worship sun, so Cleopatra's costumes and accessories are mostly in gold, the color of sun.