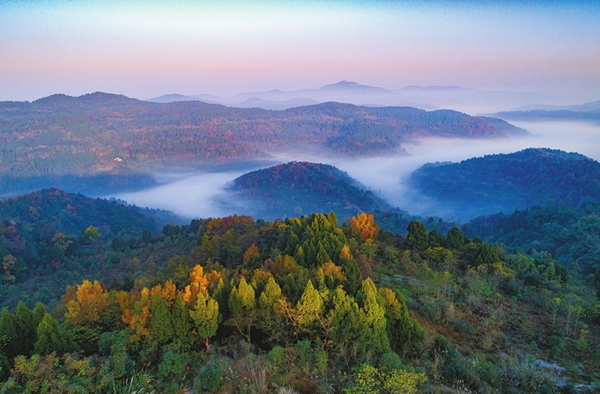 A glimpse of Longquan Mountain Urban Forest Park [File photo]
The Longquan Mountain Urban Forest Park, with a planned area of around 1,275 square kilometers, will become the largest of its kind in the world, according to an official from the forest park's management committee.

The master plan on construction of the forest park was unveiled at the Second Plenary Session of the Thirteenth CPC Chengdu Municipal Committee held in early December.
The park, described as "colorful landscape, splendid scroll" in the master plan, will consist of six main functions, including ecosystem conservation, leisure tourism, sports and fitness, cultural demonstration, high-end services and international exchanges, said the official.
The park will involve Chengdu Hi-Tech Industrial Development Zone, Tianfu New Area, Longquanyi District, Qingbaijiang District, Jianyang City and Jintang County.
The park comprises three tiers: a 362-square-kilometer core area, a 528-square-kilometer buffer zone and a 385-square-kilomter transitional area, according to the master plan.
Construction on the park is expected to be completed within 20 years.
The park, after its completion, will release 230,000 tons of oxygen each year and create a further ten square meter of forest per capita.