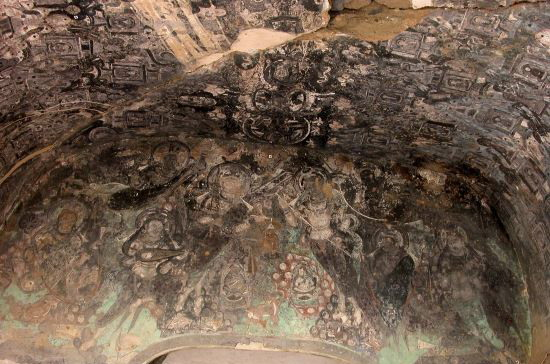 Kumutula Grottoes [china84000.com] 
Click here to enter photo gallery >>
- Location: Kuqa County, Xinjiang Uyghur Autonomous Region
Located 30 kilometers southwest of Kuqa County, Xinjiang Uyghur Autonomous Region, the Kumutula Grottoes (库木吐喇千佛洞) were first chiseled during the fourth century and completed during the 11th century. The grottoes stretch about 5 kilometers north to south and 1.5 kilometers east to west. The north region has 80 caves, while the south region has 32 caves. Most paintings, in a style similar to Tang Dynasty-style, inside the caves are incomplete but nevertheless provide precious information about the history of the Xinjiang economy, culture and architecture.
Travel tips:
- Hours: All day
- Admission: 35 yuan
- How to get there: Take a bus from Urumqi South Suburb Bus Station to Aksu.