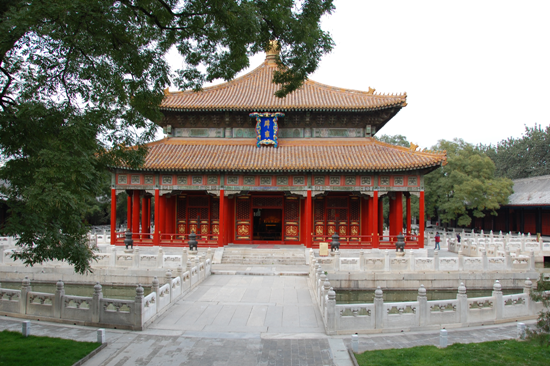 Guozijian 
Click here to enter photo gallery >>
- Location: Dongcheng District, Beijing
Originally built in 1306, Guozijian (国子监), also known as the Imperial Academy, was the highest educational institute in ancient China during the Yuan (1271-1368), Ming (1368-1644) and Qing (1644-1911) dynasties. It is located in Beijing's Dongcheng District, adjoining the Confucius Temple and the Yonghe Lama Temple.
Facing south, the academy features the traditional Chinese symmetrical architectural style. Along the central axis of the architectural complex, there are the following main buildings: Gate of Assembled Virtue (Jixianmen), Highest Scholarship Gate (Taixuemen), the glazed tile Memorial Archway, Biyong Hall, Yilun Hall and Jingyi Pavillion.
The Memorial Archway is the only one of its kind built for education in China, with both sides inscribed by the emperor to showcase the nation's respect for education. The Biyong Hall, featuring multiple-eaves and polygonal roof, is the main building of the academy. It was built in 1784 for the newly crowned emperors to give a lecture to show their respect for higher education. Guozijian is also famed for the 190 stone steles with the texts of the Thirteen Classics of Confucianism engraved on them.
Travel Tips:
1. The best time to visit Guozijian is from April to October.
2. You can find many hotels and hostels nearby, such as Beijing Minfu Hotel, Beijing P. Loft Youth Hostel and Haina Inn Lama Temple Branch.
3. Try the traditional Beijing food on the Local Snack Street near the Lama Temple.
- Hours: 8:30 a.m. – 4:30 p.m
- Admission: 30 yuan (covering the entrance fee for the Confucian Temple)
- Tel: 86-10-64042407
- How to get there: Take Subway Line 2, 5 to Yonghegong Station, or Bus 13, 116, 807 to Guozijian.