Xi'an
September 22, 2009
Take night train from Beijing to Xian at Beijing West railway station, overnight on the train.
September 18, 2009
Xi'an is not only rich in historic sites, it lies close to Mt. Huashan, one of the five best-known mountains in China. Huashan is famous for its incredible cliffs, narrow and steep mountain paths and its mysterious underground caves.
September 18, 2009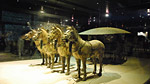 This short but substantive tour provides a panorama of ancient Xi'an, which is home to the amazing Terra Cotta Warriors whose discovery in the 1970's astounded the world. You'll walk on the City Wall and visit the Provincial History Museum.
Send your stories
Get more from China.org.cn

Mobile

RSS

Newsletter