By Rebecca White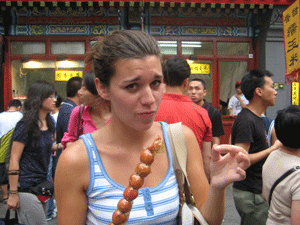 There are many adventures while traveling abroad, but the food adventure I anticipated as an American in Beijing was the one I looked forward to the most. All the more reason for my excitement about visiting the Donghuamen Night Market at Wangfujing. The Chinese version of "fair food," this is the place to find all of the traditional delicacies, and to see how far my adventuresome spirit would take me.
As I entered the market, I was immediately hit with the pungent smell of roasting meat and spices. I took my time absorbing the variety of the dishes and taking pictures of the ones I have never seen before, but soon realized this would tax my camera's memory capabilities. Knowing it was time to choose, I set out to find my dinner.
I stepped into a restaurant at the end of the market street, and saw a man in the back with a barrel between his knees that was teeming with live scorpions. He calmly picked them up, one by one, oblivious to their stings, and poked a stick through their bellies. He joked around with me and my other American friends, pretending to throw scorpions on us and laughing when we screamed and jumped back. Here was my food adventure. I handed over my yuan notes and placed my order.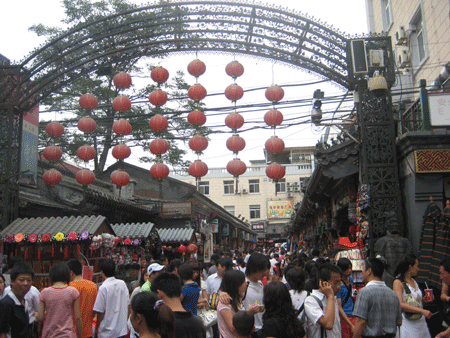 Five minutes later I was handed four scorpions on a stick, burning hot from the oil. As I lifted the scorpion to my mouth, my hand began to shake and my courage began to fail. My much braver friends took the stick from me and bit the scorpions off, until only the last one remained. It was my turn again. Nerves calm, but stomach queasy, I picked up the stick.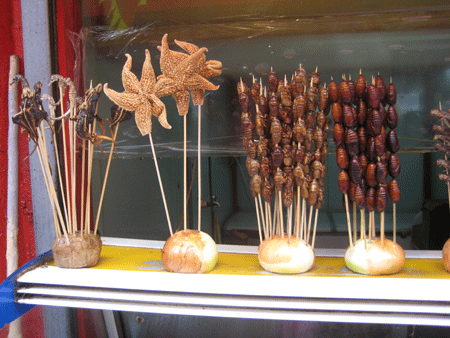 And I ate a scorpion!
With this personal triumph under my belt, I worked my way through the market with ease, trying whatever took my fancy, from coconut milk to roasted meat to candied fruit. And very glad I did.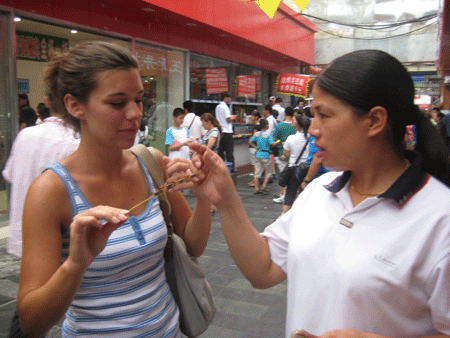 (china.org.cn July 20, 2008)