Even with the bounty of stage offerings in Beijing during the new year season one play stood out with consecutive sold out shows for over half a month. Adapted from a hit TV series a decade ago, "Cherish Our Love Forever" tells a story of love amongst a group of young adults. The play is about to start a second round of showings.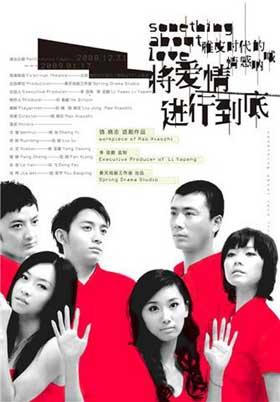 Ten years ago, the twenty-episode TV series "Cherish Our Love Forever" became a hit shortly after being released. The sitcom tells of life and love between a group of young college students. The true-to-life, complicated love entanglements struck a chord with young audiences.
The sitcom turned out to be a pipeline for emerging stars earning renown for lead actor Li Yapeng, lead actress Xu Jinglei, actor Wang Xuebing, and pop singers Chen Ming, Xiao Ke and Xie Yuxin who sang the theme songs. Director Zhang Yibai also won wide praise for the production.
The new stage drama is a sequel to the TV show. It tells new stories after the characters meet again ten years later. To bring some real spice to the play, original lead actor, Li Yapeng, is the new effort's investor and supervisor. The plot is based on real stories from the lives of the actors, director and the screenplay writer.
The first run of the play premiered on December 31st wrapping up on January the 17th. Wang Xuebing and Gao Qi from the original series attended the premiere, along with singer Chen Ming.
Theme song dinger Chen Ming said, "Ten years went by so fast, with so many memories. It's love stories that always cause a stir in our hearts."
Actor Gao Qi said, "Many, many things have changed over the past ten years, but the true love told in the drama remains moving. That is the charm of true love."
Li Yapeng's wife, pop singer Faye Wong, was also on hand at the premiere. Wong's first self-written lyrics from 2003 bore a similar title to the TV series but at the time, she and Li weren't yet a couple. People say the coincidence makes her love and marriage with Li seem like destiny.