Turkey's Minister of Culture says restoration workers have uncovered a well-preserved mosaic face of an angel long-hidden at the former Byzantine cathedral of Haghia Sophia in Istanbul.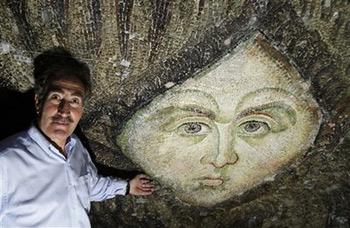 The seraphim figure is one of two located on the side of a dome. The figures had been covered up along with the building's other Christian mosaics shortly after Constantinople - the former name for Istanbul - fell to the Ottomans in 1453. At that time, the cathedral was turned into a mosque.
The mosaics were plastered over according to Muslim custom that prohibits the representation of humans.
Some of the mosaics were revealed when the domed complex was turned into a museum in 1935, but the seraphim remained largely hidden.
Ertugrul Gunay, Turkish Minister of Culture, said, "According to the information we have, these mosaics were found and covered by the restorer Fossati. Fossati was the last human being who saw these mosaics. Today, we will be the first ones to see these precious mosaics since then. We will today announce to the world that these mosaics have been found."
Experts are now working to uncover a second seraphim.
The newly uncovered image was hidden behind scaffolding and is not currently visible to visitors.
Haghia Sophia, also called the Church of Holy Wisdom, was built in 537 AD and remained a symbol of Byzantine grandeur until Istanbul was conquered by Muslim armies.
As a mosque, minarets were added, and Christian symbols were defaced.
It went on to become one of the most renowned mosques of the expanding Ottoman Empire.
(CCTV July 27, 2009)