German Chancellor Angela Merkel said Tuesday that seven nuclear power stations built before 1980 would be disconnected with the grid during the announced three-month moratorium on nuclear extension plan.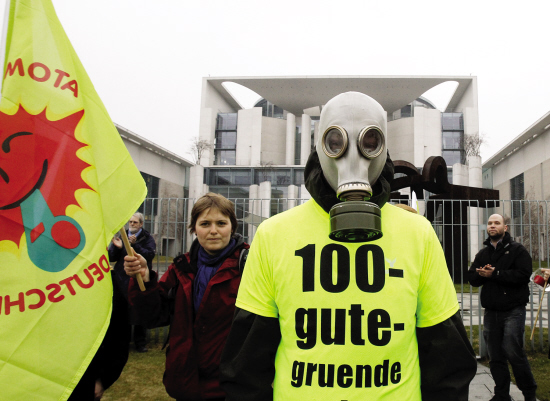 Demonstrators in Germany demand closing of nuclear plants on March 14, 2011.
Merkel made the decision after meeting with the governors of states that built nuclear power plants. Germany currently has 17 nuclear power stations. The last new nuclear power plant was commissioned in 1989.
Besides the seven plants, the 1983-built Krummel nuclear power station in Schleswig-Holstein, which has been taken offline for a while, would remain closed during the moratorium.
It means that during the next three months, only nine nuclear power plants would be kept operating in Germany. Figures showed that about 23 percent of Germany' s electricity supply comes from nuclear power.
On Monday, Merkel said Germany would suspend the life-extension plan of its nuclear power plants for three months. During that time, experts would run thorough security tests on the country's nuclear power stations.
The chancellor's new moves came as Japan's nuclear crisis escalated dramatically in last two days. Four explosions have rocked the quake-crippled Fukushima nuclear power plant since Saturday.
Radiation near the plant area has climbed to dangerous levels. Even in capital Tokyo, higher-than-normal level of radiation was also detected, but not harmful to human health at the moment.
Merkel's center-right coalition decided last October to extend the lifespan of its nuclear power station -- those built before 1980 in Germany can be run eight extra years, and those commissioned after 1980 can extend their running time to 14 years. Polls showed that majority of Germans are opposed to the plan.
The opposition parties, including the Social Democrats (SPD) and the Greens, have been urging Merkel to give up extending nuclear plants' running time in wake of Japan's nuclear crisis.
The disputes over nuclear energy put Merkel's coalition under heavy pressure as six crucial regional elections will take place in coming months, including a key vote in the state of Baden-Wuerttemberg on March 27.