U.S. President Barack Obama said Tuesday that his country welcomes the peaceful rise of China.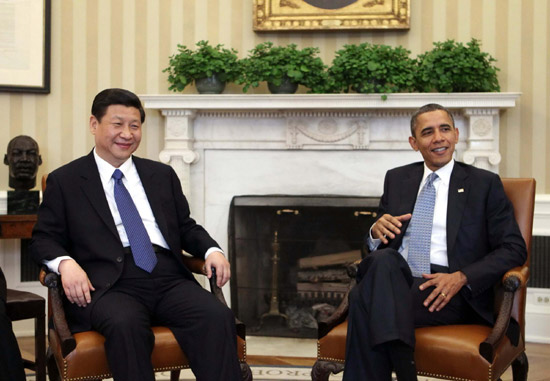 China's Vice President Xi Jinping (L) meets with U.S. President Barack Obama at the White House in Washington, February 14, 2012. [Photo/Xinhua]
"I have always emphasized that we welcome China's peaceful rise, that we believe that a strong and prosperous China is one that can help to bring stability and prosperity to the region and to the world," Obama said before a meeting with Chinese Vice President Xi Jinping at the White House.
"And we expect to be able to continue on the cooperative track that we've tried to establish over the last three years," he added, recalling that over the last three years he has had "a great opportunity to develop a strong working relationship" with Chinese President Hu Jintao.
"We have continually tried to move forward on the basis of recognizing that a cooperative relationship based on mutual interest and mutual respect is not only in the interests of the United States and China, but is also in the interest of the region and... in the interest of the world," he noted.
On the basis of that understanding, the president added, the two countries have established very extensive strategic and economic dialogues.
The two countries have been able to pursue a significant consultation on opportunities for both countries to improve their strategic and economic relationship, Obama said.
He said the United States wants to manage areas of tensions with China in a "constructive way" and "work together in the G20 to manage the world economic crisis that has such an impact not only on both our countries, but on the entire world."
"Because of the China-U.S. cooperation, I think we are able to help stabilize the situation at a difficult time," Obama said.
The United States also wants to tackle hotspot issues such as Iran's nuclear program and the nuclear issue on the Korean Peninsula together with China, Obama said.
"We expect that China will continue to take a growing role in world affairs. And we believe that it is critically important that the United States and China develop a strong working relationship to help to bring stability, order, and security that ultimately provides a better life for both the people of the United States and the people of China," he said.
Xi started his five-day official visit to the United States on Monday as a guest of U.S. Vice President Joe Biden.