Panda's adventure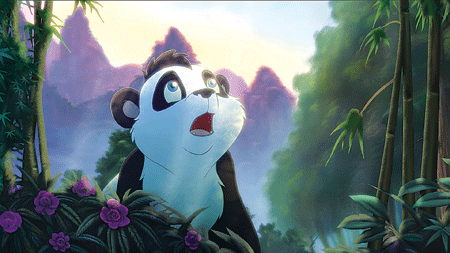 Character Pandi Panda from Little Big Panda. [Global Times]
Meanwhile, Little Big Panda with an all-Western production team opens on Chinese New Year. With a cost of 350 million yuan ($53.16 million), Little Big Panda is the most expensive Chinese animation film ever made and tells the story of Panda's adventures fighting evil to accomplish his mission. "Despite the film's Chinese characters and elements, it is still a Disney story," director Greg Manwaring, who has played key roles in many Disney animations including The Lion King (1994), told the Global Times.
According to Manwaring, animators from Germany, Spain, Belgium and the US all contributed to the film. With the international production team, it took a year and a half to finish, half the time that a standard Disney animation would normally take.
Instead of choosing the usual CGI technology, the film features hand-drawn picture converted into 3D. According to producer Chen Xiaoxiang, it is the first animation film to use this technique.
Asked about doubts regarding the efficacy of the new method, Chen admitted, "Many people don't believe hand-drawn pictures could be concerted into 3D…[but] I would say ours is real 3D if you see it." According to Manwaring, both CGI and hand-drawn animation are equal in terms of cost and effect but are simply two different ways of doing things.
"It is encouraging to see three animation films attracting attention in the Spring Festival cinema. But Old Master Q and Little Ocean Tiger has a Japanese team, Little Big Panda is almost a Western production. Only the Pleasant Goat and Big Big Wolf is a local production. There is still a long road ahead for Chinese animation," film critic Hu Liang told the Global Times.