Zhang Yimou's new film "The Great Wall" is not just a movie production, but is also a multiple-aspect business project, as he seeks to conquer the often lukewarm merchandise market in China.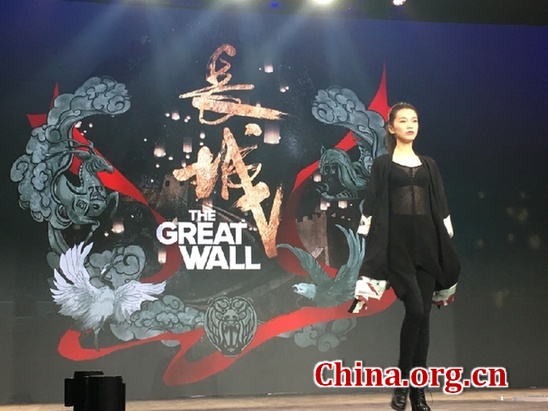 A model showcases a fashion garment at a press conference for Zhang Yimou's "The Great Wall" in Beijing on Nov. 15, 2016. [Photo provided to China.org.cn]
At a press conference in Beijing on Tuesday, the 66-year-old Zhang wore a specially designed gold and black jacket inspired by the elements from his new film explaining, "This is one of the clothing items for my film." Several investors and studio executives accompanying him were identically dressed.
At the end of the press conference, reporters were stunned by a sudden fashion show, with models wearing suits and other clothing studded with "The Great Wall" elements.
The garments are from the international design team of Mtime.com, a Chinese film database company that has also been exploring ticketing, film rating and merchandise business for quite some time.
Mtime's team got involved in "The Great Wall" merchandise business as early as six months ago, going through the processes of designing, modeling, categorizing and producing. Besides clothing, there are many other kinds of film souvenirs including a Chinese style porcelain tea set, New Year lucky money packet, Chinese paintings and caligraphy style cellphone shell, glaze glass chopsticks and many more.
Wanda Cinemas, China's largest cinema chain, bought Mtime in July for US$280 million. A new app, Mtime PRO, was released on Monday using the big data of 70 million members of Wanda Cinemas and about 100 million members from Mtime, to provide detailed analysis on film distributors and filmmakers and different sectors of the industry ranging from casting and shooting to marketing.
Zeng Maojun, president of Wanda Cinemas, said Mtime is expected to move from deficit to profit at the end of this year, propelled by the booming merchandise sector.
The design team put much thought into the merchandise design for "The Great Wall," including training foreign designers in Chinese culture before they started work. "We made more of traditional Chinese element products rather than just putting the film title and some pictures on the clothes, We wanted to create fashion pieces ordinary people can wear in their everyday life, " Zeng said.