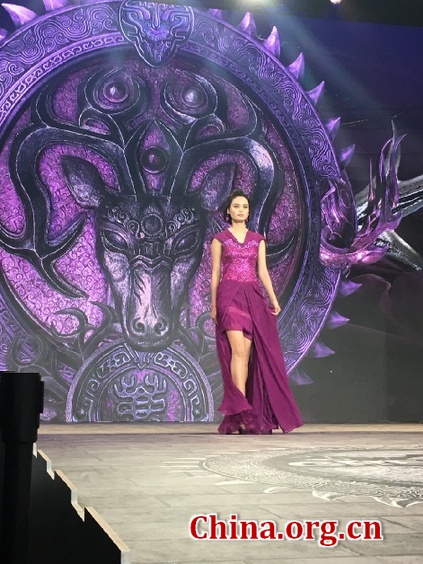 A model showcases a fashion garment at a press conference for Zhang Yimou's "The Great Wall" in Beijing on Nov. 15, 2016. [Photo provided to China.org.cn]
Mtime received licenses to sell official merchandise products from major Hollywood studios such as Disney, Sony, Warner Bros, Paramount, Universal and 20th Century Fox before the Wanda acquisition. This year Mtime enjoyed success in selling merchandise for "Warcraft," a film produced by Wanda-owned Legendary Pictures, earning more than 100 million yuan (US$14.55 million) in the process.
Hou Kaiwen, the founder and CEO of Mtime.com, said the company had been engaged in merchandise business for four years and he felt a big market change was underway. "More and more users love film merchandise. In the early days, people only have thought of making toys, but in the past 18 months, the merchandise has started entering family life. 'The Great Wall' merchandise even reaches the fashion domain. Good looking, useable and affordable are the new public demands for merchandise."
Mtime doesn't own any factories but supervises the products in detail when they are being made by external sources. Wanda has helped it expand its sales channels, either through online stores or through outlets in theaters.