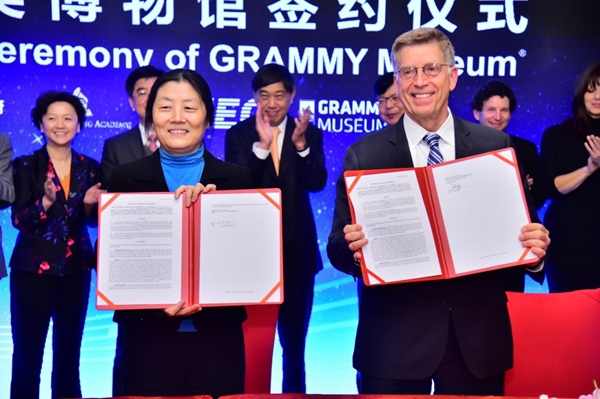 Wang Li, president of Beijing SEEC Culture Media Co., signs an agreement with Bob Santelli, executive director of the GRAMMY Museum, at a press conference in Beijing, Jan. 9, 2017. [Photo courtesy of Beijing SEEC Culture Media Co.] 
Wang Boming, chief executive officer of Beijing SEEC Culture Media Co., said the Sanya museum will have Chinese Hall of Fame, where Chinese visitors can see memorabilia of top Chinese musicians.
"Sanya has a big tourism industry, receiving 16 million tourist visits and having more than 30 billion yuan in tourism revenue in 2015," Wang said. "But the development of tourism and the development of culture are unbalanced."
He believed China could display bigger achievements in the cultural sector, while he saw the potential of Chinese music as being even bigger than the booming Chinese film industry.
Sanya Mayor Wu Yanjun, introducing the museum plan, said it would add more abundant cultural contents, services and products to the city and raise its degree of internationalization.
He said the municipal government was paying great attention to the project and was seeking to create the best environment for the museum.
The GRAMMY Museum, located in downtown Los Angeles's L.A. Live and owned and operated by AEG, opened in December 2008 on the 50th anniversary of the awards. The museum consists of four floors, including historical music artifacts displays, such as Elvis Presley's guitar and Michael Jackson's stage costume, interactive instrument stations, recording booths and a theater.
It opened its second outlet in Cleveland, Mississippi in March 2016.
According to Wang, another two GRAMMY museums could be built in China, with Beijing, Shenzhen and Qingdao being considered as candidate cities.