Zhang Yuan, a community of hundreds of shikumen (a style featuring Western and Chinese elements) houses in downtown Shanghai's Jing'an district, was recently reopened to the public after its last residents were relocated late last year.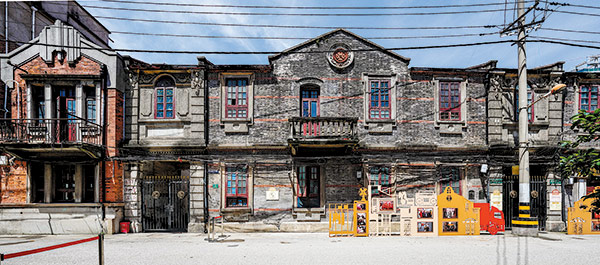 An exhibition titled, 100 Years of Zhang Yuan: Urban Renewal of Jing'an District, was launched in the compound on July 6 to commemorate the site's historical value.
"We want to bring the stories to the public and let people know about Zhang Yuan, and show how the Party and the State have done everything possible to improve people's quality of life," says Shi Yunlun, president of the Jing'an Real Estate Group, the State-owned enterprise responsible for the conservation and restoration of Zhang Yuan.
"Zhang Yuan is the first urban renewal project in Shanghai to implement a protective expropriation plan," Shi says.
"For decades, the shikumen houses were packed and the facilities overused. In order to conserve the heritage of Shanghai, the city decided to relocate all the residents in 2018 and protect the buildings."
According to the district's plans for the compound, the houses will be restored and refurbished, underground spaces will be constructed, and a commercial compound over 150,000 square meters will be introduced. Maintaining the cultural heritage and characteristics of the shikumen houses will be the top priority of this project, Shi says.
Located just off Nanjing Road West at the corner of Taixing Road and Wujiang Road, Zhang Yuan, or Zhang's Garden, is widely known as Shanghai's largest, best-preserved and most diverse shikumen compound.