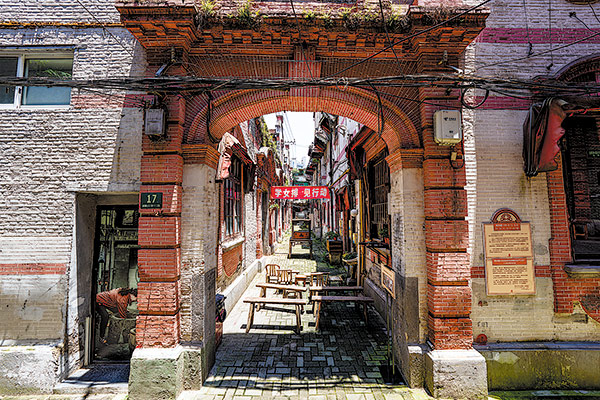 Before it became a residential compound, the location was dubbed the "No 1 public garden of Shanghai". It was the place where the first electric lamp in China was lit, the first bicycle race in China took place, and where the country's first outdoor photo booth was opened. It was also the place where kung fu master Huo Yuanjia challenged Western boxers to prove to the international community that Chinese were courageous fighters. Peking Opera maestro Mei Lanfang also made his debut performance at a private event there.
Stories like these are what the new exhibition endeavors to share with the public. The exhibition begins with photographs that depict the early beginnings of Zhang Yuan, which was named after its founding owner Zhang Shuhe (1850-1919), a merchant from Wuxi in Jiangsu province. Zhang had bought a piece of farmland in Shanghai from a Briton named Francis Groom before building a garden home for his mother. This home was named Weichun Yuan, or Chang Su-ho's Garden, and was located in the international settlement during colonial times.
Zhang opened the garden to the public after his mother's death in 1885 and later built a Western-style mansion called Arcadia Hall, a place where people could enjoy a bird's-eye view of Shanghai. He also expanded the garden space to more than 4 hectares.
With the introduction of entertainment options such as a rollercoaster, circus performances and pleasure boats, Zhang Yuan quickly became a famous public space and one of the few private gardens that were open to the public in Shanghai. Its other amenities included a dance hall, a theater for Chinese opera, a photography studio, a tea house and restaurants.
In 1890, a Western performer took off from Zhang Yuan in a hot-air balloon before parachuting to the ground. This event was documented in the Oct 17 issue of the North China Herald.