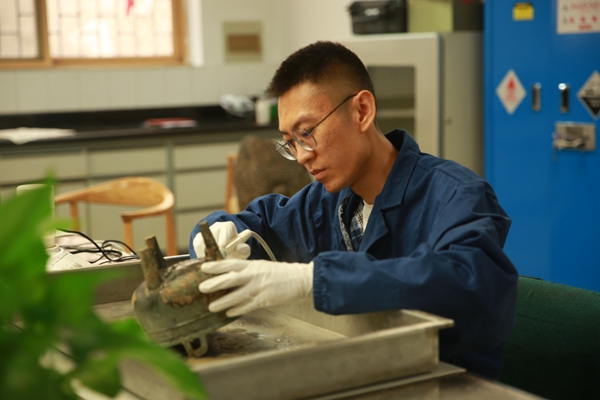 Shanxi Museum's relic protection team restores the glory and craftsmanship of a bygone era.
One can't help but notice the curious emblem outside the four-story main hall at Shanxi Museum in Taiyuan, Shanxi province. It features a phoenixlike bird, the proud head raised and turned toward the tail in a posture of self-admiration.
The emblem is inspired by a rare treasure the museum holds: a bird-shaped bronze zun (wine vessel) from the Western Zhou Dynasty (c.11th century-771 BC). The body is plump and the wings are curled up. The tail curves downward like an elephant's trunk to form a point of support, along with the two feet. The vessel boasts intricate and exquisite patterns.
What is more remarkable though is how the zun was resurrected after tomb robbers triggered a blast, reducing it to more than 100 pieces.
It took cultural relic restorers a year and a half to collect all the fragments, clean them, treat them for discoloration and meticulously piece together the vessel, with just a few nicks remaining in the tail.
"When you see the artifact now, you can't imagine that it was found in pieces during excavation. It is so lifelike once more," says Zhang Zhengmin, 30, who studied cultural relic authentication and restoration at Shanxi Vocational College of Tourism in Taiyuan.