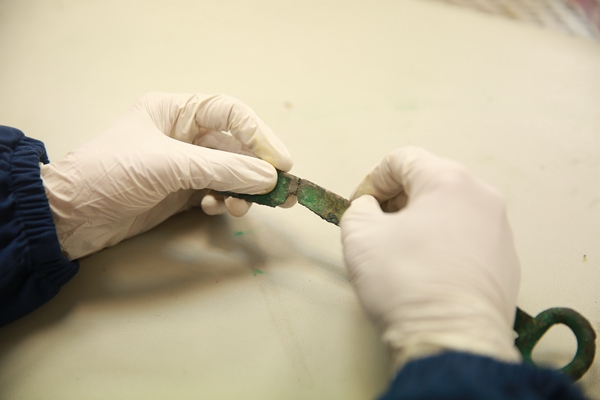 Dogged perseverance and 12 restoration steps later, Zhang and his teammates eventually pulled off the job, bringing an almost intact historical wine vessel before the public.
A scientific bent of mind with full grasp of mathematics, physics and chemistry, and the ability to ascertain problem areas through technology, such as X-rays, are among the core requirements to successfully finish complicated projects, he stresses.
Zhang is among the 11 young restorers at the museum's cultural relic protection and research department, which was founded in 2005 and is the first of its kind in Shanxi.
The restorers account for one-third of the staff, and are strong pillars of the museum, says Guo Zhiyong, deputy director of the department.
These young people engage in cultural relic testing, damage detection, sterilization, and related physics and chemistry experiments to return historical items to their former glory.
They are the unsung heroes behind the scenes, Guo adds.
Hui Mingtao, another member of the team, won third prize at a national cultural relic vocational skills competition in October for restoring a couplet dating back to the Qing Dynasty (1644-1911).
"The couplet was 'fractured' and parts of it were missing. The color had faded, and the writings in ink were blurry," he recalls.
After analyzing all the problems, he embarked on a three-month restoration project and returned the couplet to its original state through a dozen steps.
Like Zhang, Hui studied cultural relic authentication and restoration in college, and has focused his attention on ancient painting and calligraphy work at the Shanxi Museum since 2013. It took him three years to learn to manage the simplest repair job.
"Meticulousness must be your second name if you wish to be a restorer," Hui says.
For example, he says, removing pollutants and residue is like dealing with wounds during a surgery. Most ancient calligraphy works are very fragile and can fall apart if not handled with utmost care.
Hui raised his threshold for challenges in 2018, when he was working on a couplet by well-known calligrapher Yang Eryou from the Qing Dynasty.
Normally, it takes three to five days to brush away the residue, but this couplet had been inappropriately mended before, making things more complicated. Hui had to spend a month doing the basics.
"I was on the verge of giving up out of frustration," he recalls. But when the calligraphy finally revealed itself, he realized it was worth all the trouble.