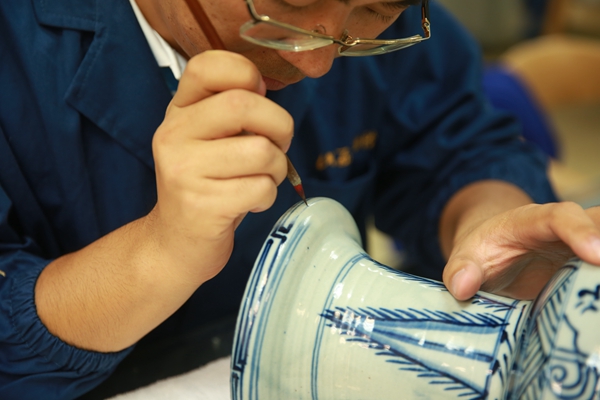 A dream project
For Zhang, who was already into folk culture and history, and had learned about clay sculptures, a career in restoration of relics was an obvious choice.
However, in 2013, a year before graduation, when he received an offer from the cultural relic protection and research department of Shanxi Museum, he came to realize that the job was far more complicated than he had expected.
Zhang spent the first three months just matching and numbering bronze debris. "Only senior experts were entrusted with actual restoration work," he recalls.
It wasn't until the fourth month that he was asked to piece together a bronze cylinder. "At first, I had no idea about its shape. My instructor guided me through a series of operations, including matching and mending. When I finished two-thirds of the work, the ancient relic roughly revealed itself, and I couldn't have been prouder," he says.
It took Zhang about two months to complete his first cultural relic restoration. Thereafter, he continued to hone his skills through various projects.
In 2019, he participated in the mission of his dreams. Debris that were believed to be the missing pieces of the tail of the wine vessel from the Western Zhou Dynasty were found at the tomb by faculty members and students of Peking University.
"I was thrilled to join the restoration work and was determined to make the zun look as if it were never damaged, so that more people could appreciate its beauty," he says.