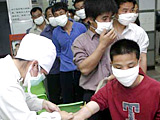 Nearly 3 million migrant workers in Beijing will have access to the same medical and work-related injury insurance scheme as city residents.
Two new regulations on medical and occupational injury issued late last month put the onus on employers to pay the premiums for migrant workers' insurance. The regulations kick in September 1 in Beijing.
Since the 1950s, when the urban household registration system was adopted, Chinese farmers have been all but confined to their land and granted little access to the social welfare system designed for urban dwellers.
Wang Dexiu, deputy director of the Beijing Municipal Bureau of Labor and Social Security, said the medical insurance will cover hefty hospitalization bills and three kinds of outpatient services -- radiation and chemotherapy, kidney dialysis and anti-rejection drugs for kidney transplants.
Other outpatient services are not covered, Wang said.
The insurance is valid only during periods of employment in Beijing.
Government surveys show that 80 percent of migrant workers in Beijing usually work in the city for about three years.
Migrant workers employed by enterprises registered in Beijing will also be covered by the occupational insurance scheme. However, workers with no labor contracts, such as babysitters and laborers paid by the hour, are not eligible.
In Shanghai, the city has recently set up 10 delivery stations especially for those migrant women, providing the same quality of service as in public hospitals but at a price only one-third as high.
Child-bearing is not just a matter of cutting the umbilical cord, as has been fatally misunderstood by some women migrant workers, who have chosen to give birth in illegal clinics and have died, together with their babies, on the "operating table".
Fears of high medical expenses in public hospitals or of births violating the State's family-planning policy have also stopped such women from seeking medical attention in licensed hospitals.
With an ever-larger floating population of migrants entering the Shanghai city, the number of migrant women delivering children has rocketed in recent years.
"Most migrant workers arrive during their child-bearing ages and few of them have medical insurance," said Hu Yutang, president of the Minhang District Migrant Worker Delivery Center.
A survey carried out by the Municipal Health Bureau revealed that the death rate for births among migrant women was triple that of locals.
Last year, the city saw a total of 83,713 deliveries, 40 percent from migrant women. However, among the 29 cases of death during delivery, 23 were migrant women.
A public hospital usually charges about 2,500 yuan (US$300) for a delivery, not including additional costs for difficult labors of caesarean births.
In illegal clinics, costs might be only 500 yuan (US$60) if the baby turns out to be a boy and 100 yuan (US$12) less for a baby girl, according to Hu. Baby boys are often preferred by rural citizens.
"Such prices have attracted many poverty-stricken migrant workers," he said.
The underground clinics make themselves known through illegally posted advertisements.
"It's very easy to find notices for the underground clinics in parks and throughout the neighborhood where I live," said Li Guisheng, 28, a father-to-be from East China's Anhui Province. " The clinics were actually simply built huts along the roads, with each usually having only one doctor."
Most of the "doctors" have never received professional training, simply acquiring a little medical knowledge independently, according to Zhu Xiaoping, president of the Pudong New Area Women and Children Health Care Hospital.
"Furthermore, the clinics have almost nothing in the way of medical equipment and are typically in a bad sanitary condition," Zhu said.
The mostly commonly seen accidents in the clinics are an over-use of drugs to induce delivery, leading to damage of the womb, severe bleeding after delivery, injury to the foetus and post-delivery infection.
"Actually, some birth-inducing medicines, such as oxytocica, are not over-the-counter, yet somehow, they manage to obtain them through illegal channels," Zhu said.
Many of the women injured in this way are in a critical condition by the time they are finally sent to public hospitals for treatment.
In other cases, large groups of migrant workers from the same village take on the role of midwives for each other.
"For example, if a group came from the same village in central China's Henan Province, they choose a native woman experienced in delivering babies to serve as the midwife for the whole group. She will probably have no proper equipment or medicines," Zhu said.
Public hospitals report to the police if they receive patients who have been transferred from underground clinics or unqualified midwives.
"But it's hard to track down the culprits because the migrant workers protect them," she added.
To make matters worse, the migrant rural women have little health knowledge and rarely undergo adequate health checks during their pregnancies.
According to the new policy, each pregnant migrant woman will receive three health checks before delivery, each of which costs 50 yuan (US$6) -- about one-third of the usual price.
In the Minhang District, those who give birth after natural labour are charged 600 yuan (US$72) each, which includes one-day of monitoring after delivery in hospital and several basic vaccines for the new-born babies.
For those with difficult deliveries, extra charges will be made but these will also be at a steeply discounted price.
The policy and costs in the 10 delivery centers varies somewhat, but it should be kept within the range from 600 to 800 yuan (US$72-96).
News of the new centers has quickly spread around the migrant communities and in the first week alone 26 babies were born at the Minhang center.
"We learnt about the news from one of our friends and it has been very good for us," said Ouyang Xiaoju, a woman from neighboring Jiangsu Province who just gave birth to a healthy boy.
A migrant woman surnamed Li was lying on the delivery table in the Minhang District center, waiting for the birth of her second child.
Monitoring equipment was connected to her body to keep track of the condition of the foetus, allowing Li to hear the sound of its rapid heart-beat.
"This is the most advanced equipment available and many other large hospitals have yet to obtain it, but we have installed it for the migrant workers," Hu said.
The delivery centers are affiliated to neighborhood or district hospitals.
The lowering of medical charges has pushed the hospitals to spend more building the centers and upgrading their facilities.
The Minhang center has invested 2.4 million yuan (US$290,000) on the project, with the hospitals themselves paying the bills.
"In the very beginning, no hospital was willing to be selected as a migrant worker delivery center. The Municipal Health Bureau had to choose 10 and compel them to take the step," said Zhu, president of the Pudong hospital.
The hospitals cannot earn much from the migrant women so the government subsidizes them to keep the project running successfully.
"The 600-yuan charge is shared between the hospital, charity funds and the governmental subsidy," Hu said.
He estimated that Minhang District will provide services for about 3,000 deliveries by migrant women this year and the center will start to make a small profit when the figure surpasses 1,000.
Financial stability of the new system is also challenged by those who give birth in the center but cannot even afford the 600 yuan (US$72) fee.
"Some women have been sent to our hospital just before they are due to give birth and we have to help them as any hospital should. But they cannot afford to pay for the service and just slip away in the middle of the night," Zhu said.
The migrant women are asked to show their temporary resident's certificates and birth permission papers in order to qualify for the favorable policy on health examinations and delivery services offered in some of the new centers.
Each child requires a birth permission certificate from the Government before its birth to ensure that China's family-planning policy is being followed. An urban citizen can have only one child and a rural one can have two if the first baby is a girl. Most rural people hope to have boys.
"It's almost impossible to check whether they have violated the family-planning policy because it's so easy to get a fake copy of the permission certificate," Zhu said.
Doctors and nurses, who have been transferred from some of the neighborhood hospitals to the centers, were even busier now they were looking after the migrant women.
"We have to do two to three delivery operations every day in the center," said Zhuang Chanjuan, a doctor in the Minhang center. "The 17 staff here are on duty 24 hours a day, in shifts."

(China Daily & Shanghai Star August 23, 2004)