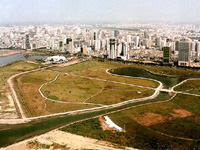 Back in September 1995, Haikou City won the approval of the World Health Organization and China's Ministry of Health to launch a great experiment in public health. With that support behind them, the city government of the day made a commitment to put environment and health issues right at the heart of the city's development strategy.
Nine years have passed and trees now cover 40 percent of the city. A full 100 percent of the live sewage goes through centralized treatment and is disposed off free from any threat to the environment. In Haikou City, the Air Pollution Index complies with statutory requirements all the year round. This city meets state requirements fully in such matters as the reported incidence rate for infectious diseases and the vaccination of children against whooping cough, measles, diphtheria, polio, tuberculosis, tetanus and hepatitis B. Today this is a healthy city with life expectancy running at 78.26 years, which is close to the levels in the developed countries.
All this took careful planning in line with the development strategy. Haikou City initiated ten major projects in such areas as healthy "green" food, waste recycling, greenbelts, environmentally friendly construction, and communications to improve living conditions for its citizens.
By the end of 2003, the city had taken on an entirely new look with over 2,000 hectares of green spaces and landscaped areas. Public places provided eight square meters in grass for every resident. Environmental noise had dropped to an average 58.2 db from 61.6 db. There was 100 percent control of dust emissions extending over an area of sixty square kilometers. The city had also reached the 100 percent mark in treating industrial effluents, industrial wastewater, and industrial solid waste. What's more, the city had built some 300 public toilets.
Meanwhile the city government had also been stepping up investment in local health facilities, establishing some 43 Community Health Service Centers. The city now has an archive holding the health records of 600,000 residents. Community health services reach 85 percent of the population. Haikou City has also built 163 model ecological villages and over 220,000 villagers in 933 villages now have tap water in their homes.
(China.org.cn by Wu Nanlan August 27, 2004)