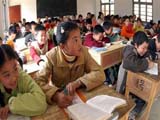 Li Xinhua can hardly contain her excitement at the news that she no longer has to pay extra fees for her 15-year-old daughter's education in Beijing.
Eight years ago, Li migrated to Beijing with her husband, an underground pipe fitter from a small town in southwest China's Sichuan Province.
Ou Jiayu, her daughter, joined the couple three years ago with her younger brother, and is now studying in a public junior high school in the capital's southwestern Fengtai District.
Like her parents, Ou has no Beijing hukou, a permanent residency permit, which means she has to pay extra money if she wants to study in a public school in Beijing.
"Last year, we paid an extra 500 yuan (US$60) to the school," Li said.
"Moreover, we were asked to fund 6,000 yuan (US$726) 'sponsorship' upon the enrollment," she added.
These are astronomical sums of money for the poor family.
But the bill does not stop there. The extra fees keep rising as tuition fees and school uniforms and equipment costs mount.
Squeezed into a 20-square-metre room, the four-member family lives on a salary of no more than 1,500 yuan (US$181) a month -- wages earned solely by the father.
But families such as Ou's are about to receive a break starting next term. The Beijing Municipal Education Commission (BMEC) worked out a new policy which was announced in August, ruling that migrant children with rural residency permits can be exempted from extra fees for education in local public primary or junior high schools.
The decision, however, exposes the current education system to more challenges while bringing a ray of hope for transient families.
Red tape
The official document from the BMEC reads that only children of farmers who have "three certificates" are exempt from extra tuition fees.
An identification and temporary residency cards and a job license for migrants are the important passports to financial aid.
Each applicant also has to submit a copy of his or her hukou booklet, proof of stable lodgings and proof from their hometown government that the child runs the risk of having no guardians responsible for its welfare should he or she become bereft of parents.
"The only principle to guide our work is to popularize the nine-year compulsory education to all children of school age," Li Guanzheng, vice-director of BMEC, said.
According to Li, there are a total of 288,424 migrant children in Beijing, more than 80 percent of whom come with rural residency.
By last July, about 190,000 were studying in public primary and junior high schools in the capital city.
"The latest statistics collected on September 20 show the figure has risen to 214,000, accounting for one fifth of the total of primary and junior high school pupils in Beijing," Li said.
She points out the new policy to relieve rural transient students from extra education fees complies with the State's Law of Compulsory Education.
"We feel the necessity and duty to offer equal rights of education to both local and migrant children," Li said.
Duan Chengrong, an education expert with Remin University's Population Research Institute, shares the same view: "The policy itself marks a big progress."
"Migrant workers contribute to the city's development. It is right and proper to treat their children equally," he added.
Li continued that the municipal government poured 35 million yuan (US$4.2 million) in the first half of this year to fill the gap brought by more enrolment of migrant children at public schools.
"Another 30 million yuan (US$3.6 million) is prepared for the next six months," Li said.
In addition, the district and county governments have vowed to input more money on that regard, raising the total number to 210 million yuan (US$25.4 million), she noted.
Dissenting voices
"We have the three certificates, but it does take time to get all the documents ready in a short time," said the migrant mother, Li.
She had to dash between the school, the local residents' committee, the office for education and some other related departments to fulfill the application.
"I was exhausted after going to and fro all day," Li grumbled.
To her dismay, the school authorities put a time limit on the application.
"They said I still had to pay the money if I couldn't turn in necessary documents within the time limit. And the money won't be refunded even if I could have them ready afterwards," Li said.
In response to these harsh, illegal rules, Li Guanzheng said the BMEC has posted a complaint telephone hotline number in various media to mobilize a social supervision on school malpractice.
Though in a small number, some public schools also expressed their deep concern about the policy.
"To be honest, we don't really feel like enrolling migrant students, especially those with rural residency," said Su Hongjie, director of Huixinli Primary School in Chaoyang District.
"Most of the migrant children come from a poor education background. Moreover, they are constantly on the move with their migrating parents, which might bring a lot of trouble to school management," Su said.
Su complains that this year the school has to cut down the budget by 60,000 yuan (US$7,255) since "the district education commission reduces subsidies and the school can no longer charge migrant students for extra fees."
At the same time, the number of students in one class has grown to 38 from 30, while that of the faculty remains unchanged, she said.
"Schools are under great pressure," Su said.
Dissenting voices are also coming from Beijing residents.
"I doubt whether my child can enjoy high quality education if he has to study in a class as big as 40 or 50 and mixed with students of various education levels," questioned Zhang Liping, whose child just graduated from a senior high school in Haidian District.
"Provided the quality can be ensured, the quantity can be expanded, I think," she said.
Zhang also put forward inquiries about the education sector's capacity to recruit such a large number of migrant children.
BMEC disagrees with the view that the public schools will be burdened with a surge of students.
"Actually, Beijing has witnessed a sharp drop of the local student number in recent years thanks to the implementation of theone-child policy," Li Guanzheng said.
A recent survey conducted by the National Working Committee on Children and Women with the State Council last year predicts that between 2000 and 2050, the number of local children in Beijing will decrease by an annual rate of 3.8 percent on average from 1.45 million to 226,000.
"The tendency implies Beijing will have enough space for 100,000 more migrant students on the current basis," Li said.
Apart from public schools, a fraction of qualified private schools which are especially open to migrant children also come to shoulder some duties, drumming full support from different levels of governments.
The city now has 299 such schools for children from migrant families.
"We have approved 23 as qualified and legal and we plan to grant license to 20 more this year," Li said.
Alarm bells
Nevertheless, the education problems of migrant children can never be solved within one day or by one policy.
"The farther we go, the more difficulties we confront," Li Guanzheng from BMEC said.
"Beijing, like every city in the world, can never afford an endless boom in population," she explained.
According to Duan Chengrong, Beijing currently has more than 4 million migrants and the number is still climbing at an unimaginable speed.
Zhengzhou, capital city of Central China's Henan Province, has sounded the alarm for Beijing.
Last August, the city government implemented a new policy that those migrant workers who have relatives in the city can register as permanent Zhengzhou residents.
This policy saw 150,000 people crowd into the city within a year, bringing Zhengzhou's educational system to the brink of chaos.
The number of students in one class surged to a maximum of 90 in some schools -- just one of the many problems.
Under great pressure, the city was forced to reverse the policy in August.
"The current distribution of public schools is in discrepancy with the distribution of migrant populations," Li pointed out.
The majority of migrants live in the outskirts and suburbs of the city, she said.
In this case, the districts in suburban areas, such as Fengtai and Changping, have to take in more migrant students while the schools downtown are lacking in numbers.
A report from the Beijing Youth Daily says in the last three years, more than 100 primary schools in Beijing are merged or removed annually, partly due to lack of students.
"Money is another headache," she said.
In accordance with present legal practice, the municipal government should settle the bill of compulsory education tuition for every student at school, no matter where he or she is from.
"That is a big challenge for the government," Li said.
But Duan Chengrong holds a different point of view.
He said the local government revenue witnesses a two-digit growth year on year.
"In some districts, the economy has even been growing at a pace of 20 to 30 percent annually," he said.
"They are sure to have the ability to devote more to the fundamental education sector."
The management of private schools for migrants poses another hitch to the commission.
"We have to control the number, because we don't think it is good to have a lot of migrants lingering outside of mainstream society," Li noted.
Besides, even in some qualified private schools, the teaching facilities and the faculty's qualification are far poorer than Public schools.
"We have only one computer room, which through the eyes of the children is a paradise, but demand for its use is overwhelming," said Li Binying, president of Anming Primary School, a private school in Chaoyang District.
The school, with 450 teenagers -- all migrants from 22 provinces and cities, consists of four single-storey buildings and a small playground.
It is the only licensed private school in Chaoyang, and has only 18 teachers, covering various courses such as Chinese, mathematics, computer studies and music.
"I have to teach both Chinese and math and give 19 classes a week," said a female teacher of the school, who recently retired from a public school.
The teacher, surnamed Hao, said usually a teacher should only teach one course and give no more than 12 courses a week.
The school recruits 11 teachers like Hao from public schools in the city and others from county schools or other provinces, all of whom are paid far less than teachers downtown.
"In the downtown public school, my average salary was around 2,500 yuan (US$302). But here it drops to 800 yuan (US$97)," Hao said.
To migrants, lower tuition fees are the main attraction which lures them from their rural homes for a city life.
But the cheap fees about to come into existence are not cheaper enough for many.
"We only need to pay 550 yuan (US$67) for a semester, which covers all expenses at school," said a vegetable vendor from Sichuan, who is also the mother of an 8-year-old. "And even that is barely within our reach."
Onward
Despite all the difficulties, BMEC is still resolute to go on.
"We will not stop here. But we have to move step by step," Li Guanzheng stressed.
She said hometown governments should stand side by side with Beijing.
"Since these migrant children still have their hukou outside Beijing, we need more help from their home governments to enhance the management," she said.
Li also agrees all related government departments should be called to address the financial and red tape problems.
"The document orders every department to shoulder its responsibility to cope with the difficulties, including the departments of public security, civil affairs and health, which makes our work easier," she said.
Li also suggests including rural migrants into local social welfare systems.
Song Wenzhen, a senior official with the National Working Committee of Children and Women, said they are urging the State Council to speed up revision of the Law of Compulsory Education.
"We suggest the allocation of compulsory education subsidies should be based on the number of tax payers instead of the number of permanent residents, so that children from migrant families will be automatically covered by State funds," she said.
Song also calls on the central government to set up special funds for migrant children.
The State Education Development Research Center has also submitted a comprehensive plan to the State Council on how to solve the problem.
"I will be very happy if I can study in a public school," exclaimed Gao Ju, a 13-year-old student at Anming Primary School.
The migrant boy from east China's Shandong Province has lived in Beijing for two years with his parents, who make a living by picking up all kinds of odd jobs.
His wish for long-term education is the common wish of all migrant children.
(China Daily October 8, 2004)