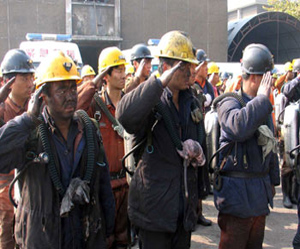 The death toll from the coalmine blast at Daping, Henan Province, had risen to 129 by 9:30 AM today.
Rescue headquarters confirmed that five more bodies had been recovered, while search efforts are ongoing to find the 19 miners still missing.
The deadliest mine accident this year was caused by a gas explosion at 10:10 PM last Wednesday while 446 miners were underground. Only 298 of them escaped to the surface, and since then the body count has steadily increased.
The blast ravaged three areas of the mine, owned by the Zhengzhou Coal Industry Group or Zhengmei. The ensuing collapse blocked tunnels and damaged electric cables and transport equipment.
The temperature and density of the volatile gas have remained high, making it difficult for rescue work to continue, said the head of Zhengmei's rescue brigade, Liu Xinshu.
According to Xinhua News Agency, rescuers have restored 12 underground ventilation stations and cleared debris at 11 collapsed tunnel sections.
They report that underground water is waist-deep and as hot as 60 C, while the air is permeated with poisonous gas.
In two tunnels workers were still trying to discharge the deadly, concentrated gas. Fans are being used to pump it out to create a safer environment for further rescue and investigation teams.
"It's been a hard day for us rescuers," said Liu, "This was the worst coal mine accident I've seen in more than 30 years, and the rescue work is a tough challenge."
As identification of the bodies continues, compensation has begun to be issued to families, with six of them having received undisclosed amounts and others still negotiating with the mine.
Local police are conducting DNA tests on 15 bodies that have yet to be identified, said Yu Ertao, an executive of Daping Coal mine.
In a second accident on Wednesday, 29 workers were trapped in a flooded coal mine in Wu'an, Hebei Province. Chances that any of them have survived are considered slim. Rescue efforts were initially hampered when mine operators reported that only six miners were trapped.
So far 35 people suspected of connections to the Wu'an accident and initial cover-up are in custody. A bank account of the mine's owners containing more than six million yuan (US$725,000) has been frozen, Xinhua News Agency reported.
Also on Wednesday, a blast at a mine in southwest China's Chongqing Municipality left 12 dead and one missing. Two days later, 15 miners were added to the national death toll when a gas explosion took place in a Guizhou Province coal mine.
China had 4,153 deaths from coal mine accidents in the first nine months of this year.
(China.org.cn, China Daily October 27, 2004)