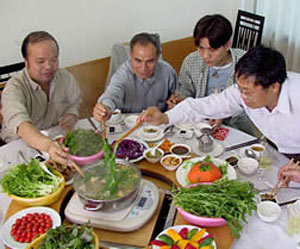 As rapid economic development changes the lives of many Chinese, it seems that eating habits are also changing. In particular, more Chinese gradually accept the concept of a no meat diet and even have begun to carry on the vegetarian lifestyle.
"I could never have imagine that my husband would abstain from meat and change his diet after one business trip!" said Ning Er.
Ning's husband, Gu Yue, was born in Guangdong, which is well-known for its fondness of quirky flavors.
"The traditional concept of the local people there is that everything can be tasted except for the planes in the sky and the trains on the ground," Ning said.
So it was no surprise that after Gu settled down in Beijing for nearly 16 years he enjoyed the local flavors, such as instant-boiled mutton and Peking duck, along with keeping the family "tradition" of eating snake meat, snake gallbladder and little sparrows. But then Gu took a business trip to Shanghai, where he met his old classmate Han Wen, a knowledgeable scholar specializing in the study of birds now. Han's speeches on the evolutionary history of birds made Gu change his food habits completely.
According to Han, one species of bird per year has become extinct on average in the past 100 years, compared with a far slower speed some 1 million years ago. The expansion of the human population has encroached on the habitats of birds, even some have been eaten into extinction.
Gu felt a blush of shame when referring to his druthers for songbirds. So Han Wen invited Gu Yue to dinner at a vegetarian restaurant Zao Zi Shu in Shanghai to meet its owner, Zeng Fangying.
Dining on Morals
Five years ago, Zeng Fangying began to eat vegetarian food with her family after doctors diagnosed her husband's mother with cancer. The whole family adopted a vegetarian diet, believing that it promotes health and would help prolong her mother-in-law's life.
"After becoming a vegetarian, my mother-in-law lived two years though doctors said she would only have six months life," Zeng said. "It made us re-evaluate our lives. Vegetarianism caused us to reconsider our beliefs and understanding of life."
So the couple left their prospering housing business and started a vegetarian restaurant in Shanghai.
"We have to admit that individual capability can be quite petty in this large world," she said. "If we can unite to do something together, it might affect the world for the better. In this sense, I hope that I can change from myself and try to add some benefit and welfare for others."
Zeng said that the biggest obstacle preventing more people from becoming vegetarians is a lack of empathy on animals.
"I feel the real reason is that I cannot place the life of animals on a par with human beings. The obstacle that exists in our ideas and attitude toward animals is quite obvious," she said.
Gu Yue' business trip to Shanghai, in some sense, was a revelation. He had never given any consideration to a piece of meat other than it was delicious and nutritious. He never thought that the animals that keep him well fed might also feel agony at slaughters.
Though the arguments that favor an animal's right to life may convince some, many others still need better reasons to adopt a vegetarian lifestyle. Some cite environmental concerns.
"In an era of rapid consumption of natural resources, some believe that vegetarianism can help us build a more sustainable future," Gu said. "Breeding huge numbers of animals for food of humans may destroy rain forest, cause greenhouse effect, water pollution, and exhaust water resources. It is absolutely a waste of resources through consumption of land, energy, power and even manpower. For example, 25 percent of rain forests have been burned out in Central America for stock farms from the 1960s."
Good Health
Ning became a vegetarian several months earlier than her husband, Gu Yue. But her motivations were simply to maintain a slim figure. The couple often visits different vegetarian restaurants in Beijing and has realized that more and more people are becoming vegetarians, including youth.
According to a recent investigation by ACNielsen, vegetarian demographics are changing. Older religious people are no longer make up the majority of vegetarians. Of the Chinese youth who are experimenting with healthy diets, 40 percent are trying to reduce fat in their diets, while 14 percent have become vegetarians. Vegetarianism has become a new way of life that is increasingly accepted by Chinese. It has come to embody a respect toward life and nature, a pursuit of health, religious belief and food safety.
"Indeed, the vegetarian food style is a present to ourselves," said Ning. "We feel that our quality of life has been elevated and we feel much easier and more comfortable in a new delicate and novel stage of life. Vegetarian originates from Latin word 'vegetus,' which means intact, fresh and spunky things."
Ning originally worried that the vegetarian eating habit may lead to malnutrition, so she consulted the professors from College of Life Science of Peking University and College of Biology of Beijing Normal University. Through experiments they found that mice could live on both vegetarian food and meat. When separated into two groups growth and development appeared similar, but the vegetarian mice seemed to have a longer life span, a stronger defense and quicker recovery against disease. In fact, eating more fruits and vegetables has been shown to reduce the risk of heart disease, some types of cancer and other chronic diseases in humans.
"Most animals have a shorter life span than plants and many diseases have been transplanted to man through the flesh of animals. Why not get nutrition directly from the plants?" said Zhang Lize, Professor of Zoo Ecology from Beijing Normal University and Chinese representative of the International Fund for Animal Welfare. "Large consumption of meat would make living conditions much more severe for animals, which can result in lethal gene mutation. This is a partial reason for the appearance of such diseases as Severe Acute Respiratory Syndrome, aphthous fever and bird flu."
Ning found that the traditional dietary structure for Chinese is mainly composed of plants. For economic and historical reasons, she said, the Chinese diet was fundamentally made up of vegetarian foods, including vegetables, corns, rice, wheat and beans.
Shi Xianglin, Professor of the Institute of Nutritional Sciences under the Chinese Academy of Sciences, pointed out, "We should look at vegetarianism as a healthy eating habit on the premise that it can give us an adequate ingestion of calories."
According to the research of the World Health Organization, 4.5 percent of our daily calories come from protein; wheat contains 17 percent of protein, while rice some 8 percent. Nutritionists say that adults need a minimum of 1 gram of protein per day for every kg of body weight. That's about 9 grams of protein for every 20 pounds. But it is not necessary to consume meat to get all the protein your body needs. Beans, nuts, seeds, peanut butter and tofu are all excellent plant sources of protein.
Gu Yue and his wife's day always begins with a fruit salad or boiled vegetables or a bowl of porridge. They will eat a vegetarian lunch at work. In the evenings or on holidays, they try to invent some new vegetarian dishes, which is a challenging and stimulating culinary experience for them.
To them, vegetarianism benefits both animals and the environment, and promotes the well-being and longevity of human beings.
(Beijing Review November 11, 2004)