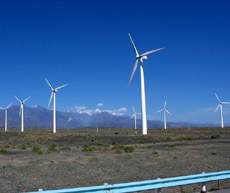 As the country's fast economic development demands more electricity, and the world moves towards renewable resources, China is looking at wind as an energy source. Wind is the fastest growing source of electricity in the world but its use in China is still low, even though there is actually plenty of it.
"China has two major windy regions," said Zhu Ruizhao, professor with the Chinese Academy of Meteorological Sciences.
He said one is a large area from the northwest to the northeast, the other, along the coast in the east.
Zhu said the Xinjiang Uygur Autonomous Region and the vast grasslands of the Inner Mongolia Autonomous Region are especially rich in wind energy.
So far just 0.11 per cent of China's energy is created by wind.
To the end of last year, China had an installed wind capacity of 567 megawatts and 40 wind electricity plants, built in 14 provinces, municipalities and autonomous regions.
The largest one is currently in Dabancheng in Xinjiang.
China is now taking substantial measures to promote commercial development of wind energy use and to encourage the establishment of wind electricity plants.
In Shanghai, two wind facilities are being built with a combined capacity of 21 megawatts.
Similar constructions are under way all over the country.
The projects support China's national initiative that targets the creation of 20 gigawatts of new renewable energy by 2020.
A research report prepared by Greenpeace, the European Wind Energy Association and the China Renewable Industry Association says that China's wind energy reserves could exceed all of China's current power generation.
In 2020, electricity generated by wind energy could reach 14 per cent of the global wind energy output, the report forecasts.
The primary plan is to launch a two-year plan, evaluating and choosing sites to build 20 major wind plants all over the country.
"With the Chinese Government's growing support for cleaner, renewable energy solutions, we're truly seeing an increase in wind energy demand in China," said Steve Fludder, president of GE Energy-China, a major wind turbine producer.
"Early action by the government to stimulate the emerging wind energy market will result in abundant and cost-effective clean energy for the future," said Li Mingbo, a senior official of Xianning in Central China's Hubei Province.
China's wind energy resources represent a significant new energy business opportunity and are considered to be among the world's best.
About 10 domestic companies are now involved in the design and manufacture of wind turbines. Turbines account for 70 per cent of the total cost of a wind farm, and those imported from foreign countries are much more expensive.
Zhu said 70 per cent of all turbines are expected to be labelled "made in China" next year.
"We are committed to efforts to use green energy and we want to make profit out of it," said Guo Xiaoying, general manager of a Beijing-based technical company, which invested in a wind electricity project in Inner Mongolia.
Guo said there were still a few practical obstacles to get over, such as the high risk of commercial development and difficulty in integrating with the national power network.
She said she was looking forward to more favourable incentive policies for wind power development from the government.
Financing is also a key issue, said Wang Zhongying, director of the renewable energy development centre of the Energy Research Institute under the National Development and Reform Commission.
"There is a lack of effective investment incentive mechanisms or a sustainable and stable policy framework to promote renewable energy," she said.
Zhu Ruizhao, professor with the Chinese Academy of Meteorological Sciences, said that for China, where the infrastructure is still backward, the development of wind energy needs a lot of money.
He said investors need detailed wind resource evaluations and policies to assure them of benefits.
Wang said she was looking forward to a policy to be framed in the form of the country's first law on renewable energy, which is likely to debut in the second half of next year at the earliest.
Renewable energy currently takes up less than 1 per cent of all energy in China mainly because it tends to be much more expensive due to higher production costs.
The cost of wind farms, for instance, would be twice as much as coal-fired power plants, Wang said.
Grid companies are obliged to buy all of their electricity from qualified renewable energy sources, and pass on the higher electricity price to the end users with some government subsidies.
"This is the system of sharing costs," Wang said. She said the object of the system was to carry out the obligations of the whole nation. "And that is fair," she added. "A clean world is beneficial to everybody."
On the supply side, it is mandatory for large power companies to build some renewable energy capacity, said Wang.
To identify the responsibilities of the power generator and grid company, according to Wang, the grid company should be responsible for building renewable power transmission lines.
Germany has installed more than 6,000 megawatts of wind power and the United States has seen significant development in the last decade, including 1,000 megawatts of new capacity in 1999 alone.
"To be the leader of the energy revolution, China still has a long way to go," Zhu added.
(China Daily December 14, 2004)