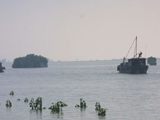 Taming the flood-prone Huaihe river, one of a few major rivers flowing through central-east China region, will top the agenda of east China's Anhui Province in the years to come, said an official from the agricultural province in Beijing on Sunday at the ongoing session of the National People's Congress (NPC).

Anhui Provincial Governor Wang Jinshan said the harnessing and control of the Huaihe River serves as a precondition for increased social and economic development in the region, which is cited as a crucial move to make locals feel contented and "live safely and happily".
The Huaihe River, which flows through four central and eastern Chinese provinces, namely Henan, Anhui, Shandong and Jiangsu, is located exactly between the country's two other major rivers, the Yangtze and Yellow rivers.

One of China's most unruly rivers, the 1,000-kilometer Huaihe River is known for its frequent floods with 300 disastrous deluges recorded over the past five centuries. The areas in the river valley now turn out 18 percent of the country's food grain and 15percent of coal.

The catastrophic floods along the Huaihe River in 2003 alone claimed at least 16 lives and caused 18.17 billion yuan (US$2.2 billion) in direct economic losses in Anhui, Jiangsu and Henan provinces, negatively affecting the lives and likelihood of about 37.3 million people.

According to a previously plan released, China will invest approximately 40 billion yuan (some US$4.8 billion) in the coming years on 17 projects to put the Huaihe River under control by 2007. Some 19.8 billion yuan (US$2.4 billion) will be used to contain Huaihe watercourses flowing across Anhui.

The gigantic plan is only the first-phase effort to control the often enduring water flows and substantial moves will be made to serve the cause, said Wang.
(Xinhua News Agency March 13, 2005)