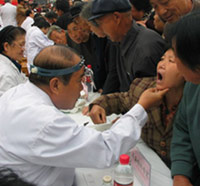 Cancer has become an effective killer not only in northern China's poverty-stricken Cixian county in Hebei Province, but also in Shanghai, China's most developed city, experts revealed on Friday.
There are 300 cases of various cancers in every 100,000 Shanghai residents, an incidence level close to that of western developed countries, said a recent report from the Shanghai Center of Disease Control and Prevention, according to Saturday's China Dail".
And in Cixian county, among female residents alone, in 2002 rates of oesophagus cancer reached 136 per 100,000, said Wang Shijie, president of the Hebei Tumor Hospital.
Wang made the above remarks at the opening ceremony of a week-long nationwide campaign to raise public awareness of cancer control.
Cancer has become China's top killer, causing 1.5 million deaths annually, said Kong Lingzhi, director of the Division of Non-communicable Diseases Control and Management of the Ministry of Health.
The early diagnosis and treatment of the disease has been repeatedly shown as the most effective way to fight various cancers, said Peng Yu, director of the executive council of the China Cancer Research Foundation.
Unfortunately, the majority of Chinese cancer patients are only diagnosed after the cancer has reached a terminal stage due to a shortage of financial support from the government, the laggard public health service network, and poor public awareness, experts said.
In China, there are many remote areas such as Shexian county of Hebei Province, and Shenqiu county of Central China's Henan Province, which have outstanding incidence of certain kinds of cancer.
These villages are mostly located in central and western China and see a lot of cases of the cancer of the liver, stomach, and oesophagus.
The reasons for these villages' high cancer rates are still unknown, said Wang Shijie who has administrated cancer treatment and carried out research in Hebei for 30 years.
They might be caused by heredity, food and drink habits, environmental factors or water pollution, coupled with a serious lack of medical care, Wang said.
However, due to the poor support of the health authority, research into the causes of these cancer clusters has not been in depth enough to provide an explanation, or a plan for prevention, Wang said.
Without financial support, Chinese rural residents are not able to access early health tests and medical treatment, even if they have the awareness of prevention, Wang noted.
In China, more than 80 percent of farmers have no medical insurance at all.
In some developed cities like Shanghai and Beijing, the incidence of cancer is also quite high.
For example, the cancers with outstanding incidence in these cities are found in lungs and breasts.
Compared with the unknown causes of the rural cancer outbreaks, reasons for urban residents' cancers are quite clear: too much smoking, too much stress, too little exercise, and an unhealthy urban life style, experts said.
(Xinhua News Agency April 16, 2005)