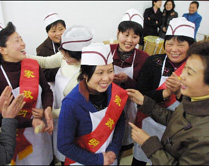 From January to September, the country created 6.5 million job opportunities, 81 percent of this year's plan, official figures show.
The current unemployment rate registered in urban areas reached 4.2 percent by the end of September, with the urban unemployed residents numbering 7.93 million, according to statistics from the Ministry of Labor and Social Security.
By the end of September, laid-off workers from state-owned enterprises totaled 3.1 million, about 1 million less than that by the end of last year, according to figures from the Ministry of Labor and Social Security.
Among the unemployed workers, 2.14 million have gone to re-employment service centers for help, 2.13 million of whom received basic living subsidies and social security.
Under a market economic system, more people, including laid-off workers, have to find jobs themselves with help from the government.
Labor and social security departments across the country have launched more than 18,000 employment agencies, accounting for 70 percent of the total employment agencies in the country.
(Xinhua News Agency October 28, 2003)