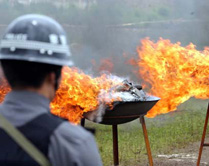 China made new progress in its anti-drug campaign over the past five years, with a number of drug- related cases cracked and the growth of new drug-taking population slowing down.
According to information from the National Narcotics Control Commission, China cracked more than 450,000 drug-related crimes in the past five years, seizing a total of 41.5 tons of heroin, 46.6 tons of "ice" drugs, 8.9 tons of opium and nearly 1,340 tons of materials for making narcotics.
An official with the commission attributed the achievement to the continuous heavy crackdowns on drug-related crime and effective international anti-drug cooperation.
He warned that China still needs to remain alert, noting that the country faces drug trafficking from a number of directions, including the "Golden Triangle" area near Yunnan Province in the southwest, the coastal areas in southeast China, and Afghanistan.
The annual growth rate of new drug addicts averaged 13 percent in the past five years, down from 30 percent in the previous five- year period, according to the commission.
The official attributed the improvement to intensive educational efforts, including distributing information to schools and broadcasting special TV programs.
According to the commission, China put 1.27 million drug addicts under forced rehabilitation programs in the past five years.
(Xinhua News Agency October 29, 2003)