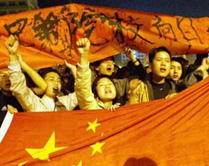 A group of Japanese students and their teacher have apologized for their "obscene" show at a university in the historic city of Xi'an.
Three Japanese students and a teacher made a written apology Saturday, expressing deep remorse for their performance at Northwest University in Xi'an earlier this week.
The four Japanese had been suspended after complaints about a performance in which they wore bras and false genitalia in front of foreign students at a campus festival.
Students from colleges across the city have gathered at Northwest University to complain about the performance.
(People's Daily November 2, 2003)