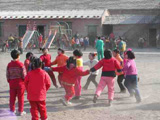 Shouts and laughter fill the air as Miao Lin and her classmates work at building a snowman in a field.
Behind them is their school, constructed of bricks on an abandoned vegetable farm in the Haidian District of Beijing's northwestern suburbs.
This is Xiwang (Hope) School. It doesn't have a gate or a playground, and it caters to children like Miao, whose parents are migrant workers.
Only a few minutes' walk from school, Miao's home is a tiny room with a big bed in the middle. She shares it with her parents. A torn curtain hangs above the bed to divide it into two parts, one for her parents, the other for her.
Miao's parents and many migrant families are crowded into this makeshift lodgings owned by local farmers. They have come to Beijing to seek a better life, doing the jobs that Beijingers shy away from. They collect recyclable items, hawk crafts, sell local cuisine or work at construction sites.
Miao's parents make a living by cooking and selling Sichuan-style hotpot. They earn about 1,000 yuan (US$121) a month -- half of which is sent to their parents in Sichuan. Little is left over after paying all the bills.
To Miao, attending a public school with a big playground, good teachers and the promise of a bright future is a distant dream.
Strict urban residence regulations that link residency with the local schools prevent migrant children from having access to public schools. Local public schools charge extra fees -- often unreasonably high -- for children without local residency status, whether they are from urban centers or rural areas.
The extra charge for non-resident children ranges from 3,000 to 10,000 yuan (US$363-US$1,209). Additional fees are also needed for each semester.
Even though most of the schools for migrant children have not obtained official licensing from local education authorities, they have mushroomed in Beijing and other major cities across China. They charge low entrance fees and set no academic limit for enrollment. For instance, Miao's parents pay between 200 to 300 yuan (US$24-36) a semester for their daughter's schooling at Xiwang.
In Beijing, the number of such schools reached 500 early this year, with total enrollment of more than 100,000 students.
At Xiwang School, there are 250 students and eight teachers.
You Wanhai was the founder and serves as headmaster at Xiwang. He used to be a teacher in a middle school in his hometown of Baoding, a city in north China's Hebei Province.
"After seeing the plight of migrant children on TV, I decided to come to Beijing and start a school for them," said You.
That was six years ago.
The school gets its fame among the migrant workers in Haidian not only because of the low fees, but because the students can pay in installments.
But You had to move the school to the abandoned vegetable patch away from the downtown area in Haidian District because he and his colleagues could not afford the expensive rent at their former site.
Still, the school attracted many students and You bought three second-hand school buses to pick up those who live far away.
He Yun and He Qiao, 6-year-old twins from Sichuan Province, say they feel Xiwang School is better than the alternative in their hometown "because our teachers in Beijing will not be distracted by their crops."
But these kinds of schools are on the brink of being shut down if they do not get licensed by the local education bureaus. In 2002, 57 such schools were forced to close in Beijing's Fengtai District.
The shabby grounds, cluttered classrooms and lack of qualified teachers leave little chance for the schools to reach the standards drafted by the local authorities for official licensing.
"To meet the standard, the schools will have to have new classrooms and employ qualified teachers," said Sun Shucheng, headmaster of a migrant school with 300 students. "We should have lab rooms for science subjects and electronic appliances.
"That means a lot of money and then a hike in school fees," he said. But higher enrollment fees could prevent migrant children from receiving basic education.
"Half of the students will leave my school if I increase the fees, because they will rush to the ones charging them less," said You Wanhai.
Mingyuan School, a school in Haidian District with its three branch schools, was the first one for migrant children to get official licensing for its primary program in September.
"It is a great step toward education for migrant students. The school will be supervised by the related government agency and will have a good operating mechanism like other public schools," said one official from the education bureau of Haidian District, who declined to be named.
Zhang Mingjia, headmaster of Mingyuan School, said: "We are given three years to reach the standard of a public school."
The lack of funding is an ongoing hardship. There is only one English teacher in the middle school, and a peek into the classrooms reveals torn blackboards and broken desks.
"We still have a long way to go," Zhang said.
(China Daily November 27, 2003)