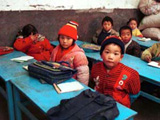 In August 1990, Gao Yaojie, a member of the Henan Provincial People's Congress and also a veteran gynecologist, inspected a prison. A young female prisoner who had worked as a prostitute and had contracted three sexually transmitted diseases (STDs) -- syphilis, gonorrhea and condyloma -- caught her attention.
Gao asked her: "Why did you choose to be a prostitute?" The prisoner said she wanted to make money for her family to build a new house.
"Weren't you afraid that you could get STD or AIDS?" Gao asked.
"All diseases can be cured if you have money," answered the prisoner.
Gao was shocked at the reply. Following that experience, Gao investigated 1,185 female prisoners in the province. The result was that 92 percent had STDs and some had AIDS.
But what sent Gao on a quest to combat AIDS was something else. On April 7, 1996, a hospital in her province admitted a female patient and invited Gao for consultation. The patient was diagnosed with AIDS. It was discovered that she had contracted AIDS from a blood transfusion during an operation. She died 21 days later. On her deathbed she held Gao's hand and asked: "Doctor Gao, how can I become incurable with just one blood transfusion?"
Gao felt she had caught sight of something in the haze, as the blood the woman had received was from a blood bank.
Some people started collecting cheap blood in remote rural areas of Henan Province in the late 1980s. The blood stations extracted plasma and returned the red cells to the bodies of the donors to prevent them from feeling weak even after giving 400ml of blood. The catastrophe started from there.
Many implements used in taking blood were found to be contaminated. Blood bags were often broken because of poor quality centrifugal machines and some blood bank attendants did not work strictly to standard procedures. This meant a person could receive contaminated red blood cells.
In turn, this meant AIDS could spread quickly even if only one blood donor had the disease.
In its heyday, the province had more than 230 blood stations. The authorities started closing them in 1995 and by 1997, the last of them disappeared in a hard crackdown.
But the door to the tragedy had been opened. Gao then made a decision to quit her job and work exclusively to save AIDS victims. At that time, Gao never thought it would be "such a difficult journey."
She raised money and printed booklets about how to prevent AIDS and STD. She distributed the books at the railway stations and bus terminals where there were large numbers of people. Many people avoided her at first. But the situation improved gradually, with some university students working with her as volunteers.
Gao was warmly received by AIDS patients and their families. But she was given the cold shoulder by some experts. She once wrote to a senior academic with the Chinese Academy of Sciences, the country's highest scientific research body, but the letter was returned without being opened. She felt quite uncomfortable with the different attitudes of local governments, experts and the public, toward dealing with AIDS.
What worried her more was that the AIDS patients had entered a stage where the highest incidence of death occurred.
"I once received 12 patients. I posted them money for the Chinese New Year this year, but the money to four of them was returned because they had died," she said.
One wall of Gao's bedroom is covered with a big cupboard holding the 7,928 letters she has received. She receives an average of six letters a day, a tenth of which are from people claiming to have medicine for AIDS. She said they tried to lure her with offers of money to recommend their medicine. "I am very sorry that they want to cheat even poor AIDS patients," she said.
Gao has shed many tears for her patients. One sad experience involved a 42-year-old man, who had written asking to meet her. When Gao arrived at his village, she encountered a funeral for him. She then burst into loud sobs.
Another shocking scene she came across in a village was a woman who had hanged herself from her house beam. She saw the body through a partly open door, where a two-year-old boy was holding her legs and crying: "Come down, mama, come down!"
Gao later learned that the child's father, who began selling blood at the age of 16, had died of AIDS.
This encounter prompted Gao to spend more time with the orphans of AIDS families.
Gao said her care for the kids was for the benefit of the nation. "I once met a boy in a village who told me he was going to kill people, to kill those who had transmitted AIDS to his parents," Gao said.
The vengeful sentiments are fermenting in quite a few places. Gao knows a boy who has lost five members of his family to AIDS. The boy quit school in the summer of 2002 when he was a fifth grader. He is working in a brick factory for 10 yuan (US$1.2) a day. After paying tribute to his parents' graves, he carved three Chinese characters meaning endurance, hatred and kill on his left arm.
Gao felt her power was weak compared with the number of AIDS orphans.
On a wall of her home are 15 photos featuring Gao with orphans. Some already have new families, but most are struggling to survive.
Gao has sent a lot of money to orphans. Last year, she sent one boy 500 yuan (US$ 60.48), only to learn that only 30 yuan (US$3.63) went to the child and the rest was taken by his paternal grandmother. She immediately decided not to send him any more money. But with her help, the boy soon found a new family in Shandong, a neighboring province of Henan.
All the money she has made from lectures, the US$30,000 Ramon Magsaysay Award, Asia's version of the Nobel Prize, and the Global Health Council, has been devoted to printing AIDS-prevention books and to helping those in need.
"Compared with SARS, which is highly curable, AIDS is much more horrible. But not sufficient attention was given to it at the initial stage. Without enough attention, the outcome can be unthinkable," she said.
(Shenzhen Daily November 28, 2003)