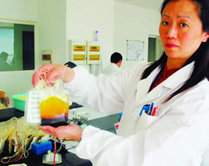 The 25-year-old Luo Jie said he had never donated or received blood. "I am worried that blood donation and using other's blood is not very safe." He said some of his friends also had similar worries.
One story carried by the magazine, Sanlian Life Week in 2001, dealing with a blood donation disaster, shocked many readers. In Wenlou Village of Henan Province, also known as "the AIDS village", it was found that 43 percent of village people who sell their blood were infected with HIV. Since 1995, at least 31 people have died of AIDS there.
AIDS expert Gao Yaojie said 99 percent of the AIDS patients she received were infected by blood donation or transfusion.
"Actually, many foreigners want to donate blood, but they are scared to be infected with some serious disease, such as AIDS. I am also concerned about it a little," said Dave Kiefer, a registered singer in Shanghai Melody Corp who made a public-interest advertisement to encourage the foreigners in Shanghai to donate blood.
The man who had donated blood several times in his country said America shares the same story with China: people are afraid to give blood and the poor sometimes have to sell their blood.
Clean procedures
The aim of the change in the blood donation system, from compulsory to volunteer, was to guarantee the quality and safety of blood, according to sources with the Shanghai Blood Donation Administrative Office.
"Volunteers, since they are not aiming to earn money from blood donation, generally speaking have a better understanding of their own health with no reason to lie about it," said Song Qi, an official with the office.
Over 92 percent of the blood collected from blood donation buses in the street, where donors are all volunteers, is clean. For blood from compulsory donation, only 50 to 60 percent is safe, according to the office's statistics.
"Some of the compulsory donors are not willing, they are asked to give blood by their employers, so their health may not as good as volunteers," Song said. "Not to mention 'professional blood sellers'."
"The standards of blood selling are too low," said Xie Yunzheng, manager of the Social Services of Shanghai (Red Cross) Blood Center. Most professional sellers give blood once or even twice every month, which can gradually lead to chronic bleeding. In addition, most of these people have unhealthy living habits, with those in economic straits being more likely to be addicted to drugs.
"But according to present scientific capabilities, even the most advanced technology would not guarantee 100 percent safety," he said. For example, the hepatitis C virus remains hidden for 40 days, but the blood storage period is only 21 days. "There is always some potential for hazard that is beyond the reach of present technology," he said.
All the blood donors are required to fill out a form. There are 36 diseases listed which disqualify them from donation and which they are asked to report themselves. But sellers are often tempted to hide such conditions in order to receive payment for their blood.
"We refuse those donors with needle-marks in their arms," Xie said. "That's why, instead of compulsory donators, we need a fixed group of volunteers who know themselves well and are not eager for money."
"I heard some people especially expatriates worry about the transfusion equipment, I can assure them there is no problem in the 11 fixed blood collection stations or the 28 collection buses," Xie said.
The center he works for in the city is the solo organization for collecting and supplying blood. To improve blood safety, the center has imported advanced equipment since 1996.
(Shanghai Star November 27, 2003)