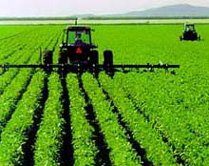 China's grain output is expected to reach 455 million tons in 2004, up from this year's 10-year low of an estimated 435 million tons, a senior official said Wednesday.
"It's difficult to achieve that goal, but we must take concrete steps," said Ma Kai, minister of the National Development and Reform Commission.
He said tough measures should be taken to protect arable land from being blindly occupied by real estate projects and economic development zones.
"We should especially stop the trend of rampant building of economic zones, which take up many cultivated lands," said Ma.
Statistics indicate the central and provincial governments have only approved about 5,000 development zones nationwide, but in fact there are up to 10,000 such zones with various scales.
Farmers say their enthusiasm for planting has been rejuvenated since prices for grain, edible oil and cotton were increased in August, followed by hikes for vegetables, meat and other agricultural products.
Ju Hua, 55, a resident of Tongjiang County in Sichuan Province, said his family is likely to invest more time and energy on farming next year as the price increases will likely generate more income.
"Maybe my two sons will stay home planting instead of hunting for jobs in cities," said Ju.
In Ju's town, rice can be sold for at least 1,080 yuan (US$130) per ton while the price for some high-quality varieties has topped 1,400 yuan (US$169) per ton -- a 10-to-20 percent increase over recent years.
Analysts believe the price hike will help entice more farmers into growing grains next year.
"But in the long run, we should rely on advanced technologies to increase grain yield," said Lin Yueqin of the Economics Research Institute under the Chinese Academy of Social Sciences.
The government should encourage college graduates, who are facing tough job competition in cities, to pass along advanced knowledge to farmers, Lin suggested.
To guarantee stable production, China's central government ordered its major grain producers like Hunan and Hubei provinces to set "protective prices" higher than the market rate to buy surplus grain.
That was among a package of measures aimed at increasing farmers' income introduced by Premier Wen Jiabao at a State Council meeting Wednesday.
The government has set a goal of increasing farmers' income by 5 percent next year, and Wen said restructuring of agriculture should be continued to achieve that goal.
Meanwhile, the government is also encouraging the establishment of township factories, which provide many jobs for farmers.
"We also should create a sound environment for migrant workers to set their minds at ease while working in cities," said Wen.
(China Daily December 4, 2003)