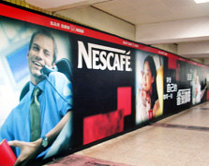 Determined to "unlock Nestle's door of silence", Zhu Yanling boarded a flight from Shanghai to Switzerland last Friday to take her complaint about non-labelling of genetically modified food to the company's headquarters, the Shanghai Youth Daily has reported.
Zhu had been angered by Nestle's refusal to respond to a letter she had sent to the company's headquarters in which she complained about unlabelled GM food on sale in China. Zhu decided to take up her lawsuit against Nestle in person. She is said to be the first Chinese challenger to tackle the giant company over unlabelled GM food products.
The trigger was a packet of Nesquick brand instant chocolate bought by Zhu for her son on March 27 in the Gubei Branch of Carrefour. The packet contained no information about GM ingredients.
Later, on the Internet Zhu learned that Nestle had been avoiding labelling GM ingredients in some of its products available in China and Nesquick was on the list. The news was the result of an investigation by China Greenpeace. The Shanghai Academy of Agricultural Science also confirmed that the product Zhu bought contained GM ingredients.
As a former student who had studied in Switzerland, Zhu was familiar with Nestle's labelling of GM ingredients in Europe and took it for granted that it was doing the same in China.
Last April, Zhu asked a local court to order Nestle to label its Nesquick brand instant chocolate drink as a GM food and is also seeking 13.6 yuan (US$1.64) in compensation, twice the amount she spent on the drink.
That case is still before the court.
Zhu also wrote a letter to Nestle's Swiss headquarters but the company failed to respond and denied any wrongdoing. Zhu has the support of Greenpeace International, which has been negotiating with Nestle over the GM issue since 1999, and the organization will provide accommodation for her during her stay in Switzerland, according to Xinhuanet.
The aim of her journey is to have face-to-face communication with Nestle and to call on the company to begin GM labelling in China. Zhu said if Nestle still kept up its silence on the subject, she would hold a press conference.
Nestle has since announced that it is a law-abiding company without any illegal products or behaviour.
In a recent newsletter Nestle said it placed GM labels on its products "in some European countries according to their laws and regulations". The company said that this action was not a "double standard" but reflected the fact "Nestle is a law-abiding and responsible company."
(Shanghai Star December 18, 2003)