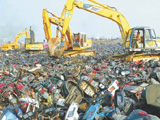 A total of 40,000 illegal motorcycles were destroyed in Shenzhen on Tuesday, with 30 suspects being arrested.
Public security personnel destroyed the motorcycles in Gongle, Longzhu, Huanggekeng and Shutianpu, all in Bao'an and Longgang districts where there are high concentrations of motorcycles.
Illegal motorcycles have been blamed for a large number of traffic accidents and criminal activities in recent years.
Robberies on motorcycles have become one of the major criminal activities, seriously endangering the safety of residents.
Police seized a large number of illegal motorcycles in recent months, clamping down on criminal gangs involved in motorcycle robberies. As a result, motorcycle robberies have dropped 43 percent.
The public security bureau vowed to improve safety throughout the city last month. The destruction of illegal motorcycles, together with massive police patrols, are part of a campaign by police to curb crime.
(Shenzhen Daily December 24, 2003)