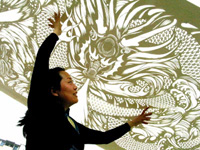 Guangling, a small county in the northern China province of Shanxi, has found worldwide fame as a cradle of paper-cutting, a popular folk art in China.

The county -- located in Datong City, a major coal production base -- sells one million paper-cuttings a year, half of which go to overseas markets in Europe, the United States and Southeast Asia, according to an official with the local government.

As the traditional lunar New Year draws near, paper-cutters in the county are having booming business "painting" vivid scenes of the holiday season and in particular, the monkey that will be the star of the coming year according to the Chinese birth sign system featuring 12 animals.

"Our artists have to finish thousands of pieces a day," said Gao Qinghong, a customer coordinator with the local paper-cutting center dedicated to promoting the traditional art form to home and overseas markets.

The center has set up a branch office in downtown Shanghai, where it is selling 1,000 pieces of paper-cuttings a day, priced between three to 1,000 yuan.

Traditional paper-cuttings in Guangling County have been applauded by domestic and international customers for their fine craftsmanship and rich diversity. In the hands of local artists, a piece of paper can be turned into a wide variety of patterns -- landscapes, flowers, birds, animals and human figures.

Some paper-cuttings depict characters and scenes from classics well known to Chinese readers: "A Dream of Red Mansions", "The Pilgrimage to the West", "The Romance of the Three Kingdoms" and "Outlaws of the Marsh".

Paper-cuttings are also called "window design" and are usually four or five inches square. Scissoring a story-telling picture or an amusing figure from paper has long been a popular pastime for women in north China. Their paper-cuttings often highlight festive occasions, weddings and birthdays.

It is still unknown when paper-cutting began in China and ancient pieces are rarely found because paper is hard to preserve. But traditional paper-cutting in Shanxi Province is believed to have a history of 600 years at least.

China has vowed to preserve its distinctive paper-cutting technology and some other folk arts as its intangible cultural heritage.
(Xinhua News Agency January 14, 2004)