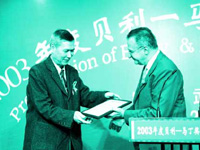 Gui Xi'en, a professor in Zhongnan Hospital of Wuhan University, was awarded the 2003 Barry-Martin Prize in Wuhan, capital of central China's Hubei Province, on Saturday for his contributions to AIDS prevention and treatment and his care for AIDS patients.

Martin Gordon, the sponsor of the Barry-Martin Foundation and vice president of UBS Warburg, awarded the prize to Prof. Gui.

"Prof. Gui is the representative of China's AIDS prevention and control work and I have known about his efforts and contributions for years," said Gordon.

Gordon said the foundation will appropriate special funds for Prof. Gui's AIDS prevention and treatment work from now on.

In expressing his thanks for the award, Prof. Gui called for more attention and support for AIDS prevention and treatment work, especially that for women and children.

At the beginning of 2000, after hearing that many youths in a county of central China's Henan Province died of a mysterious disease, Prof. Gui go there and publicized the prevailing AIDS situation and that the cause was illegal blood selling.

Since then, Prof. Gui has been engaged in AIDS prevention and treatment work in China. He takes every opportunity to spread knowledge about AIDS and the right way to prevent and deal with it.

In 2001, the professor took five AIDS patients to his home and lived with them for five days, using his experience of contact with AIDS patients to show people the right approach towards the disease and the patients.

The professor has been endeavoring to collect social assistance for AIDS patients and their children. He has gone to AIDS-hit villages to bring medical services to AIDS patients at his own expense over 30 times and sponsored 58 children whose parents died of AIDS to continue their studying.

At the ceremony, Prof. Gui said that all the prize he was awarded will be used for AIDS prevention and treatment work.

Present at the awarding ceremony were Barbara Woodward, political affairs consultant from the British Embassy in China, Joel Rehnstrom, UN AIDS China Official Coordination Program specialist, representatives from AIDS prevention and treatment research institutions in China, Belgium, Singapore and the Netherlands, and officials from the Hubei provincial government.

In 1996, Barry Chen, a friend of Martin Gordon died of AIDS. Out of great grief, Gordon established the foundation to assist AIDS prevention and treatment in Britain and China. In memory of his friend, he named the foundation Barry-Martin.

From 2000, the foundation began to award a prize each year to one expert who made excellent contributions to China's AIDS prevention and control work.
(Xinhua News Agency February 29, 2004)