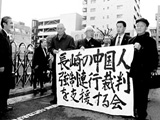 The Japanese Government and a private firm that forced a group of Chinese citizens to work during World War II will pay 8 million Japanese yen (US$75,400) in compensation for each of the 12 Chinese laborers, Japan's Niigata District Court announced in a landmark ruling on Thursday.
This is the first time a Japanese court has laid blame on the government for its role in the kidnapping of tens of thousands of Chinese, Koreans and people from other Asian countries forced to work in Japan, Xinhua reported on Friday. About 40,000 Chinese laborers were forced to work in 135 workplaces for 35 corporations in Japan during World War II.
The 10 Chinese laborers and relatives of two deceased workers lodged the lawsuit, demanding the government and Rinko Corp pay 270 million yen (US$2.54 million) in compensation.
Before the court handed down its verdict, the Japanese Government and the firm had said that according to Japanese laws, Chinese laborers had lost their right to file lawsuits since too much time had elapsed. But the court ruled these actions were illegal and that the government and the company compensate the victims.
The 12 Chinese laborers were forcibly taken to Japan in 1944 to work at a port in Niigata and were forced to carry coal and undertake other hard labor, were subjected to abuse and received no payment.
(China Daily March 27, 2004)