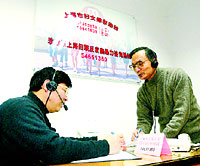 Shen Shuangsuo can't imagine what would have become of her if her sister hadn't spotted the bruises on Shen's body and taken her to the township government to register a complaint against her husband.
"He hit me with the rake because he disliked the way I collected rotten leaves," says the 54-year-old Shen, a resident of Liubinbao, a mountain village in suburban Yanqing County about 120 kilometres north of downtown Beijing.
Married for over 30 years, Shen admits her husband turned violent about two years into their marriage. Having endured the beatings silently for decades, she finally reached her breaking point.
"I went back to my mother's home and decided to leave him once and for all. But when my younger sister found my bruises, she cried. It was not until we were at the township government that I heard for the first time in my life the term 'domestic violence'," she recalls.
It so happened that an office to investigate domestic violence complaints was established in the township in May 2001, as a rural pilot project launched by the China Law Society. However, since Shen and her husband live far away from the village proper, they knew nothing about it.
"I wouldn't have endured it so long if I'd known sooner," says Shen in disbelief.
Through education courses at the office, her husband Wu Hepeng started to see the bare truth: domestic violence is subject to legal punishment.
Wu confesses to being short-tempered. "Every time I beat her, I felt it was wrong, but I could not control myself. Now I know it's against the law to beat one's wife or anyone in the family," says the 57-year-old, who had only six years of formal schooling.
"Life is short. And it's not an easy job for a man and a woman to stick together all these years," Wu says, happy that his wife dropped her divorce petition thanks to his repentance. Although he still doesn't like Shen's nagging over trivial matters, Wu has learned to turn a deaf ear by being occupied with chores in the family's orchard.
Because China was predominantly an agrarian society up to the 1980s, the traditional mentality of male chauvinism still prevails here, with domestic violence against women rampant in many communities. A 2001 survey of 160 farmers in a village in Liubinbao Township indicated 20 per cent resorted to verbal and physical abuse of their spouse.
"The township, with 2,500 households, sits in a mountainous area where livelihood depends heavily on physical strength. Men therefore enjoy a higher social status. And wife-beating is not rare, which has affected not only women's health but also their participation in family economy," says Sun Shujun, deputy chief of the Liubinbao Township.
Like Wu and Shen, many farmers in Yanqing were unaware of the term domestic violence, not to mention the intervention programme.
Misconceptions prevail
A 2001 survey of 145 law-enforcing officers in the county, including police and judges, found many misconceptions about domestic violence.
About 47 per cent believed the problem is a private matter, and 26.2 per cent agreed no action should be taken unless victims seek help. Close to 35 per cent held that "It takes two to tango" or "The woman incurs beating by being unreasonable or having done something disgraceful to the husband."
Based on the surveys, the China Law Society office in Yanqing worked out a programme and set up a mechanism to handle domestic violence cases.
"In our network composed of different government departments, public security is the first to be mobilized," says Sheng Guirong, chairperson of the Yanqing County Women's Federation.
Training workshops were run for police officers and other judicial workers to balance their long-held male stance with perspectives based on gender equality. The county's public security bureau alerted all its grassroots branches about the issue, and reports to police about domestic violence cases began to be dealt with in a timely manner.
Counselling training was provided for staff workers at the local anti-domestic violence offices. There are also courses on the revised Marriage Law, which now has an additional clause concerning domestic violence. Even male violence perpetrators were invited to take psychological counselling aimed at behaviour modification and learning to respect their spouses.
Then prime time radio and TV programmes on anti-domestic violence topics and exhibitions with colourful pictures and illustrations on the issue were showcased to cultivate the general public's consciousness.
Particularly effective are short plays and dramas performed by the villagers themselves, which shook up Qi Tiecheng and made him reflect on the numerous beatings he administered to his wife before she finally left him in 1997.
"I was surprised to see my ex-wife performing the beaten wife role and acting out the exact scenes she had suffered in our marriage," says the 43-year-old.
Qi grew up watching his father beat up his mother and believed that wives were expected to wait on their husbands and obey them without complaint. He followed suit and hit his wife "with anything I could lay my hands on, especially when I was drunk or feeling unhappy." Sometimes the beating was so serious that she remained bedridden for up to two weeks.
Shocked and guilty about the brutal treatment to his ex-wife in the 15 years of their marriage after he saw the dramatized family violence, Qi decided to join the campaign by presenting his lessons to others.
"I would have had a happy family if the project were launched 10 years earlier," he sighs.
Now, seven years after their divorce, Qi and his ex-wife, who has remarried, are friends. "The traditional thinking of women being inferior to men is deep-rooted. It takes time to change," says Qi, but adds quickly that if he finds a suitable partner, he would cherish their family life.
Rewarding project
Qi, Wu and Shen represent the initial but encouraging achievement of the three-year-old rural project jointly sponsored by the Ford Foundation, the Norwegian Centre for Human Rights at the University of Oslo, the Swedish International Development Co-operation Agency, and the Netherlands Organization for International Development Co-operation.
A recent survey of 500 local residents indicates over 70 per cent are aware of the project and the anti-violence offices at township and county levels. More than 90 per cent have watched relevant TV programmes and received training or education in other forms. Over 80 per cent say they will interfere or call the police if there are violence cases around them.
The rising awareness of domestic violence has led to more reports of cases to the county office. While 79 cases were reported in 2001, the figure rose to 124 in 2002.
"Now nearly all the women in our county know that it's against the law for husbands to beat wives. Every village in Liubinbao Township has a small group headed by its chief to mediate family disputes," says Han Shuntian, chairperson of the Liubinbao Township Women's Federation.
According to Han, over the last three years, the county women's federation has channeled small credit loans totalling 600,000 yuan (US$72,000) to help domestic violence victims grow cash crops or breed aquatics. That has helped women become more independent and elevated their social status.
On March 24 this year, the rural project on domestic violence prevention in Yanqing was awarded a third prize by a panel of well-known researchers and scholars on innovation and excellence in Chinese local governments for innovative local governance award in competition with 18 finalists across the country.
The panel commended the Yanqing project for exploring effective ways to prevent domestic violence in rural areas, and congratulated the organizers for elevating women's awareness.
But people involved in the project are aware that they still have a long way to go.
"Our random survey in 2003 of 100 people in the county found that at least 10 per cent still believe wife-beating is nothing to be fussy about. About 24 per cent hold that in certain circumstances, violence could be used to settle disputes. Some women still choose to keep silent about violence at home while still others have no idea of evidence collecting," says Sheng Guirong, chairperson of the Yanqing County Women's Federation.
"We still have an arduous task ahead," she adds.
(China Daily April 4, 2004)