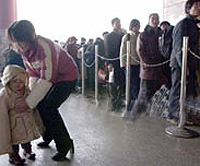 Rural migrant workers in China are helping their hometowns shackle off poverty by mailing back their earnings cent by cent, but their kids left behind in rural areas suffer much more "growing pains" than their peers in urban areas.
While about 9 million of minors, most of them in big cities, are learning how to play pianos and enjoying their happy childhood, millions of underage are beset with such challenges as less care, sense of insecurity, unreliable education and psychological problems.
Teenager Xiao Yuan was put under the custody of her uncle by her parents, who migrated in August 1999 from their hometown in Yindian township of Suizhou city in central China's Hubei province as transient workers.
Only one month after their departure, Xiao Yuan, then only aged 11, was raped by a relative and has since lived in misfortune.
"Daddy, I'm so scared. Please come back soon," she wept then.
The parents came home with a limited amount of savings two years later and almost overwhelmed by humiliation, regret and indignation after hearing of the crime perpetrated on their daughter, which cost the girl her reproduction capability.
But to get enough money for a lawsuit against the perpetrator, they left home again in late 2001, leaving the innocent girl with lasting physical and psychological traumas.
Despised and often bullied by her schoolmates, the girl is now very timid and a loner who talks little.
According to Ma Dingming, head of the local court, approximately 10,000 out of the township's total population of 30,000, and 70 percent of all of the young people there, are working outside. They left behind problems in education and management of their children. Still worse, the migration has led to a fast growth in divorce cases, and most of them involved children 5-10 years of age.
Rural development is one of the top concerns of the Chinese Government. And the problem is quite outstanding with five provinces, namely Henan, Anhui, Hubei, Hunan and Jiangxi, in the central part of the country.
In 2001, the combined rural population in the five provinces stood at 255 million, making up 78.22 percent of their total, five percentage points higher than the nation's average.
However, per-capita area of arable land in the rural regions of the five provinces was approximately 0.28 hectares below the national average 0.4 hectares.
The scarcity of farmland is forcing a growing number of rural residents to migrate for work in cities.
Hubei's labor and employment authority estimated that about 3 million laborers have, since the Chinese Lunar New Year this year, flocked out of the province for jobs in other parts of China, up 10 percent from the year-earlier level.
According to a recent sample research conducted by the Beijing-based China Social Survey in Beijing, Shenzhen and Guangzhou municipalities and Henan, Sichuan and Hubei provinces, 83 percent of the 670 respondents said their purposes for working outside their hometowns were to change the life of their own and of their kids. And 79 percent of the surveyed noted that they were reluctant to leave their kids but they had no other options.
The survey also found that 43 percent of the respondents thought their migration would have negative impact on their children, and another 36 percent said that they had never thought about the problem.
There lies the paradox for China's big force of migrant workers. Against their original will to better their own living standards and save more money for the future of their children, absence of parental care has resulted in the formation of unrestrained and selfish personalities and even autism for the underage kids they left behind. Some of the minors left schools and their custodians and lived a life as waifs. Another direct result is juvenile delinquency.
According to Wang Caibin, headmaster of the central primary school of Caowu township of Jingshan county, Hubei province, nearly half of the 1,000 students had their parents working outside their hometowns. They made up a majority of the problem students at the school, Wang said.
Wang cited a sixth grader who, unfortunately, had had his guardians changed several times before he started to idle all day long, with his grades sliding down drastically.
This problem of rural minors is a worrying social problem cropping up in the process of urbanization and labor transfer, said Prof. Zhou Zongkui, a noted psychologist specializing in children's socialization with the Central China Teacher's University based in Wuhan, capital city of central Hubei province.
"Fine and reliable relationship is the basis of the healthy growth of children, and it may help them build a sense of trustworthiness and security about the external world," Zhou explained.
"The normal relationship between minors and their parents has been interrupted, and the interruption will probably lead to failure to build the sense of security and trustworthiness and then to a negative tendency in their future attitude towards other people and the society," Zhou added.
Exertions are being made to improve the social welfare in rural areas, and in the process, emotional loss of rural children should be taken into account, he suggested.
Prof. Zhou noted that exclusive counselors should be deployed with primary and middle schools in the rural areas, so as to help somehow replenish family care that is absent for minor nesters.
The best choice for the migrant workers is to take their kids with them, Zhou said. But he added that it costs too dearly for most of the transient workers to do so.
Guo Xianwen at Luotian county of Hubei province said he and his wife worked in Wuhan with their kid studying there. Then their family's annual spending amounted to 10,000 yuan (US$1,200), of which 3,000 yuan (US$360) was used for the kid alone, much higher than the 1,000-yuan cost for the minor when he studied at their rural home.
Guo estimated that two, at most, out of 10 migrant parents were able to bring their children out with them.
To this end, some experiments are being made with some rural schools.
In Yandian town of Anlu city, Hubei, Sun Xiuchao, praised as "acting mother", has launched a family-style dormitory for 63 primary schoolers, of whom 40 are minors.
An experienced primary-school teacher, Sun not only takes care of the food and clothing and other basic necessities of life for the children, but also supervises and instructs their study.
There are now 100-plus "acting mothers" like Sun in the town, which has nearly 10,000 out of its total population of 16,000 as migrant workers.
Yan Meifu, a psychologist with the Wuhan-based Hubei University, said that living in community may help the minor nesters, who were thirsty for parental love, get some compensation emotionally and grow in a more healthy way.
Other measures included establishment of special training schools to tell guardians of minors how to take care of the kids under their custody.
(Xinhua News Agency May 31, 2004)