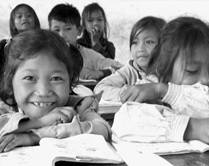 Have you participated in sporting events in which players compete in lifting pumpkins and spinning tops?
Well, you can find such events featured as part of the rural fun at the first National Hope Primary School Games.
This is a new venture for Project Hope, a non-profit program established in October 1989 that provides education for children in underdeveloped areas. As many as 921 pupils from Hope primary schools all across China were brought to the capital for the event.
The Games, held just two days before this year's International Children's Day on June 1, offered the rural children many "first time" experiences.
Most of them took the train for the first time, walked on city sidewalks and streets for the first time, and visited the Great Wall and Tian'anmen Square for the very first time.
Over the past 15 years, the China Youth Development Foundation, the sponsor of Project Hope, has not only given many children many new experiences, but has also changed their destiny forever.
Zhou Biaoliang, 23, is one of them.
Born to a Zhuang minority farming family in south China's Guangxi Zhuang Autonomous Region in 1981, Zhou had to drop out of school in 1992 when she was in grade four in primary school.
She had no choice but to do so, because a fire had destroyed the family's home leaving them destitute.
Seeing other children in the neighborhood going to school, Zhou felt disappointed and asked her parents many times when she could go to school again.
"But they always told me to wait until they had earned enough money," she said.
Unable to suppress her longing to continue her studies, Zhou even went to the school and stood outside the classroom to listen to her old teacher's lessons.
Good news finally came three months after the accident occurred. She was told that she had been subsidized to go back to school.
Deng's donation
Later, Zhou learned that she was one of 25 students funded by the late Chinese leader Deng Xiaoping, who donated 5,000 yuan (US$602) to Project Hope in 1992 designating school dropouts from poor families at Baise, in the Guangxi Zhuang Autonomous Region, as the beneficiaries.
Zhou studied hard to repay the kindness. She was admitted to Tiandong Normal School for Nationalities in 1997.
"A few other Baise students helped by Project Hope have been admitted to normal schools and technical secondary schools, as well. Some of the students have also been admitted to universities," she said.
After she graduated from the normal school in 2000, Zhou chose to go back to her hometown, though many of her classmates went to work in cities to make some money.
"The poverty in my hometown is tied to the backward state of education there, and I wanted to kindle a fire of hope among people there," she said, adding that her dream was shared by two of her classmates who were also helped by Project Hope.
After going back home, Zhou contacted Fengwu Village Hope Primary School.
She first worked as a substitute teacher, earning only 150 yuan (US$18) a month. As there was no dorm at the school, she had to walk several kilometers between home and the school twice every day.
Talking about her determination to teach at a Hope primary school despite all the hardship, she said it was because Project Hope had changed her life forever.
"Without the help of the foundation, I would probably have married long ago and have already given birth to a couple of children in the village," she said.
The good news is she was informed in April that she had been accepted as a regular teacher at the school.
Holding the torch
Rang Ying, from southwest China's Sichuan Province, has had her life changed forever, too, thanks to Project Hope.
Born in a poor family of the Tibetan minority in Sichuan, Rang Ying said she had to drop out of school twice because of poverty.
The first time was in 1989 when she was only 9. Her father had fallen ill and his medical bills drained the family resources.
Fortunately, the newly-established Project Hope provided assistance so that she was able to finish her primary school education in 1993.
Misfortune struck again in 1994 when she was 14. Her father died that year leaving Rang Ying and her mother in debt.
It was again Project Hope that provided a helping hand and subsidized her return to school the following year.
Rang Ying said Project Hope has done more than give her the opportunity to continue her education.
In 1996, she was sent to Atlanta, in the United States, as the representative of all children who had benefited from Project Hope in China, to carry the Olympic torch for 1,000 meters.
"That 1,000 metres has changed my life. Before that trip, I was only a girl who dreamed of earning money after finishing junior high school and taking my mum to the county town for a trip," she said.
Rang Ying studied hard at school and her hard work paid off. She was admitted by the Law School of the Southwest University for Nationalities in 1999. She graduated last year, and now she works at the Chengdu Municipal Cultural Bureau.
Since its startup in October 1989, Project Hope has assisted a total of 2.58 million poor students like Zhou Biaoliang and Rang Ying, according to the foundation's statistics.
The project has also built or rebuilt at least 10,000 Hope primary schools for rural students.
To date, 150 of these schools have been equipped with computers that support the project's distance learning program. And most of the schools have been equipped with books and audiovisual equipment.
At the same time, Project Hope has trained 12,000 rural primary school teachers and given scholarships to 113,000 students to help them complete high school and university.
"With donations from home and abroad totaling 2.2 billion yuan (US$265 million) so far, Project Hope has formed an integrated educational subsidy system to cover students from primary school to college," said Gu Xiaojin, secretary general of China Youth Development Foundation.
Before the foundation set up the project, the country was seeing an increasing number of dropouts in rural areas.
Official statistics at the time showed more than 7.5 million students dropped out of school in 1988, an increase of 34.5 percent over figures for the previous year.
From 1980 to 1988, a total of 37 million students quit school, one quarter of them because of poverty.
Seeing the astonishing figures, the foundation made investigations and decided in October 1989 to establish the country's first program to provide financial aid to poor students to allow them to return to school.
After 15 years' operation, Project Hope has developed into the country's most influential public welfare program, Gu said.
An assessment report shows that 93.9 percent of Chinese urban citizens aged 16 and over know about Project Hope, and 63.5 percent have participated in the project in a wide variety of ways.
Gu said the foundation will create new modes of subsidization in order to help more poor students go to school in the future.
(China Daily June 9, 2004)