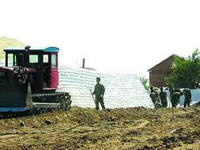 Dozens of villagers and their livestock in Qiqihar City were evacuated Tuesday to make way for a working team's clean-up of chemical bombs left by Japanese invaders during World War II, the local government said.
Nine rural families in Touzhan Village, Yushutun Town, were moved from areas within a radius of 60 meters around the site where the chemical bombs were found, while other villagers living near the site were ready to leave any time in the event of an emergency, local officials said.
The bombs were found by a local farmer named Dong Liyan on May 23 near his house in the city's Ang'angxi District, where a Japanese airport was located and a deployment regiment was stationed during World War II.
Chinese have raised their voice repeatedly to urge the Japanese government to take a correct attitude toward history and shoulder the responsibility to clear up all the chemical weapons abandoned by the Japanese invaders.
A working team consisting of Chinese and Japanese experts will arrive at the scene Wednesday to dig out and seal the chemical weapons, which will then be temporarily kept in a special storeroom in Qiqihar. They will be destroyed when a professional destruction center is ready in the city, the Chinese Foreign Ministry said.
Chinese soldiers began to garrison in the village since Saturday to level off the ground, put up tents and build a makeshift road and a parking lot.
Some 2,000 Chinese have so far become victims of the discarded chemical weapons after the war was over, previous reports said. In Qiqihar alone, eight incidents involving Chinese becoming victims of Japanese chemical weapons have taken place since the People's Republic of China was founded in 1949.
Qiqihar used to be a major logistic base of the Japanese troops during the war.
(Xinhua News Agency June 15, 2004)