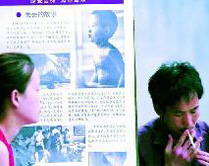 China had about 740,000 users of banned drugs by the end of 2003, and the country's registered number of drug addicts totaled 1.05 million, including those that had gone clean, the Ministry of Public Security said Monday.
A leading drug control official with the ministry said China has a total of 643,000 heroin users on the record during the past several decades.
China has set up 583 compulsory drug rehabilitation centers with 116,054 beds, and 165 drug-rehabilitation-through-labor institutions with 143,000 beds, according to the ministry.
China also has 247 voluntary drug rehabilitation centers with about 8,000 beds, where drug addicts may go for help at their own will.
China has stepped up its efforts to fight drug abuse, and it will launch a say-no-to-drug campaign among its millions of primary school students for the first time in history.
Chinese Premier Wen Jiabao visited a drug rehabilitation center earlier this month in a high-profile move to call on the whole society to fight drug abuse.
(Xinhua News Agency June 21, 2004)