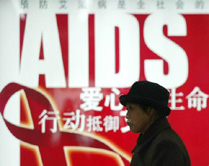 One of the many challenges in addressing HIV/AIDS in China is working out ways to provide HIV carriers and AIDS patients with access to effective drugs.
At the present stage of development, cocktail treatment is considered the most effective way to mitigate the effects of HIV/AIDS. The treatment requires the administration of a combination AIDS drugs.
Cocktail treatments that use patented drugs made by foreign manufacturers can cost a patient between 30,000 yuan (US$3,600) and 40,000 yuan (US$4,800) a year.
The price is beyond the reach of a huge majority of HIV-carriers and AIDS patients in China.
In contrast, domestically-made generic treatments cost the patient about 3,500 yuan (US$423) per year.
But experts say the domestic drugs are not as effective and can have strong side effects.
Fortunately, mainland drug firms can now produce five generic AIDS drugs at low cost because their patents have expired.
These five drugs can be used in four different cocktail treatments. But if none of the four packages is suitable, patients have no choice but to foot the bill for required expensive patented drugs themselves, or wait to die.
Cao Yunzhen, a senior expert in AIDS treatment, notes that the range of drugs available in China is smaller than anywhere else.
There should be more choices for carriers and patients in the country, she says.
In contrast to this very unsatisfactory situation, there are more than 20 AIDS drugs available internationally, which can be utilized to make more than 10 drug cocktails.
With this many alternatives, AIDS patients can choose cocktails that suit their condition and have a minimum of negative side effects.
Domestic situation
Last July China started to provide free domestic AIDS drugs to all HIV/AIDS sufferers in rural areas and for those in urban areas who are not covered by medical insurance and lack the economic means to pay for the treatment.
Although they are low in cost, the domestic therapies have serious limitations. Some of these drugs are outdated and are no longer recommended for use in the United States, experts say.
On top of this, there is no prescription suitable for children with AIDS. Also, one of the drugs, NVP, cannot be taken by patients with hepatitis B. Yet up to 10 percent of China's population are carriers of the disease.
Beijing-based AIDS activist Wan Yanhai says that in Shangcai County of Central China's Henan Province, where many people suffer from HIV/AIDS, 60 percent of the people who were taking free drugs have stopped doing so, mostly because of the strong negative side effects.
These side effects generally include headaches, blurred vision, numbness in the limbs, diarrhea, and many other uncomfortable feelings.
According to media reports, by October last year, 5,289 AIDS patients in nine provinces were receiving free treatment.
But the number dropped 20 per cant to 4,247 two months later, with patients stopping taking the drugs because of the strong side effects.
Only 75 percent of AIDS patients taking free drugs in December of last year were still taking the free treatment last month this year.
Medical experts warn that discontinuing treatment is dangerous, as this increases the risk of the development of drug-resistant HIV strains, thereby making future treatment even more difficult.
Compulsory licensing
Some advocate the Chinese Government imposing compulsory licensing on foreign drugs to reduce cost and increase availability for domestic patients. But others have their reservations.
The advocates reason that the situation in China, the most populous country in the world, is rather discouraging.
Statistics from the Ministry of Health shows that as of September last year, China had 840,000 HIV carriers, accounting for only 0.06 percent of China's population but ranking second in number in Asia and 14th in the world.
Among the 840,000 HIV carriers, 80,000 are AIDS patients. These victims include intravenous drug users, prostitutes, and tens of thousands of paid blood donors infected during the 1990s as a result of unsafe blood collection practices.
About 94 percent of the carriers are in the 15-to-49 age group, and most of them are farmers.
The central government has been setting aside special funds for AIDS control since 1996. From 2001 to 2003, the government allocated 100 million yuan (US$12 million) per year for AIDS treatment and prevention.
But experts say it's far from enough. Even though using the comparatively cheap domestic drugs, the Chinese Government has to pay at least 280 million yuan (US$33 million) a year for treatment of its 80,000 AIDS patients.
In addition, although the prevalence of AIDS in the country's population of 1.3 billion is still relatively low, some outside experts believe the epidemic is on the edge of a surge in growth.
Some experts estimate that more than 10 million people will be infected by the deadly disease by 2010.
In some developing countries, such as a number of Caribbean countries, African countries and Asia's India, the price for AIDS drugs has been reduced to only US$130 to 150 per patient per year, just a third of the lowest price of China-made generic drugs.
This is attributed to some strategic moves made by the countries.
At least until 2005, when the Agreement on Trade-Related Aspects of Intellectual Property Rights (TRIPS) takes effect in India, intellectual property law in India protects only the means of producing drugs, not the drugs themselves.
So Indian AIDS drug producers can offer drugs at lower prices by using different, unpatented production processes.
This was the result of some compromises India obtained through bargaining with other World Trade Organization (WTO) members when joining the organization.
When countries sign up to the WTO, they also agree to protect the patent rights of companies that sell products within their borders.
Since it was introduced in 1995, the Agreement on Trade-Related Aspects of Intellectual Property Rights (TRIPS) has been protecting companies by stopping anyone from copying their products.
With respect to drugs, the major difference between TRIPS and previous agreements is that TRIPS requires countries to grant patent protection to pharmaceutical products for a minimum period of 20 years.
Companies that have patents protecting their products see this as an essential element in international trade, as it guarantees a return on the investment they have made in developing their products.
However, in the case of pharmaceutical companies, many people perceive this as putting profits before patients.
With hundreds of thousands of people dying because they can't afford the drugs they need, the pressure on pharmaceutical companies to lower their prices has been growing.
In November 2001, the WTO met and agreed that TRIPS does not have the right to prevent members from taking measures to protect public health in their countries, and should not do so.
Such action is called "compulsory licensing," which allows poor countries to manufacture or import drugs at prices much lower than those imposed by the developers of the drugs if there is a threat to public health.
As early as 1997, South Africa initiated the practice of compulsory licensing within its territory after the signing of TRIPS.
At that time, one eighth of the people in the country were HIV carriers and 20 percent of its adults tested positive.
South Africa's action resulted in Western AIDS' drug producers putting the country in the defendant's seat in international courts. In April 2001, as a result of manoeuvring by the United Nations, the drug manufacturers withdrew their charge.
"Theoretically, China can declare that the country is in an emergency situation and impose compulsory licensing to allow it to make generic drugs," says Wen Xikai, an official with the patent bureau of the State Intellectual Property Office.
"But we have to take some economic factors into consideration." she adds.
"Imposing compulsory licensing reduces but does not eliminate costs. We should offer satisfactory compensation to the drug makers who own the patents," Wen says. "Moreover, simply reducing prices is not the root solution. Even if drug prices are cheaper, most farmer will still not be able to afford them."
Some experts say that compulsory licensing also has its negative side. If the quality of the drugs so produced is poor, they will bring no benefit to the patients. Moreover, the practice will encourage mainland pharmaceutical manufacturers to produce the generic drugs rather than develop new ones and thus become less competitive in the world market.
And most important of all, it will discourage pharmaceutical manufacturers in developed countries from developing new and more effective drugs. According to a World Bank estimate, without strong patent protection, 60 percent of drugs developed would not have been developed, and 65 percent of new drugs would never have reached the market.
Compulsory licensing is not the solution to everything, said GlaxoSmithKline (GSK) China, a multinational pharmaceutical that owns the patents for several AIDS drugs, in a statement made to China Daily.
There is no need to license AIDS drug manufacturing to others, as GSK is able to meet the needs of the Chinese Government through both sufficient supply and reasonable prices, according to the GSK statement.
"We believe it will be much faster and more effective for the companies that develop the drugs to meet the government's needs, given their extensive expertise in the area and their existing manufacturing facilities and capabilities," the statement says.
In addition, GSK holds that systematic use of compulsory licensing weakens the intellectual property rights system, which underpins the ability of the private sector to continue undertaking research and development.
What GSK advocates for China is an integrated approach of HIV/AIDS prevention and control, according to the statement.
Price cutting
Cao says China should hold negotiations with big AIDS drug companies on lowering drug prices.
In countries like Brazil, such negotiations are held each year.
In fact, the Chinese Government is doing just this. It has been reported that the Ministry of Health is holding talks with companies such as GSK and Merck & Co, another international big name.
According to the GSK statement, the ministry and GSK are discussing an agreement for the supply of medicine at preferential prices to China's Government-supported national HIV treatment program.
GSK sources say the negotiations have been going smoothly and agreement will be reached soon.
"Offering sustainable preferential prices in developing countries for the medicines and vaccines that are most needed is a well-established policy at GSK," the GSK statement says.
Merck Sharp and Dohme (China), a Shanghai-based company under Merck & Co, actually cut its prices in 2001 as a result of long-term negotiations between the company and the Ministry of Health.
On November 30, 2001, the company announced a drop in the price of two of its AIDS drugs.
The combined retail prices of the two drugs, crixivan and stocrin, were cut to less than 30,000 yuan (US$3,600) per patient per year from more than 80,000 yuan (US$9,600) per patient per year.
Experts say the two drugs combined form an effective cocktail treatment.
Although the price is still high for most people in China, experts hailed it as a move in the right direction.
Localization of drug production is another way of cutting prices.
GSK announced in Beijing in November of 2002 that it would manufacture its medicine combivir, a product used widely as the backbone drug in "cocktail treatments," in China.
It was the first time for a foreign AIDS drug producer to announce its intention to produce an AIDS drug in China, experts say.
William Stockley, general manager of GSK China promised that the company will offer the lowest price it can.
Applications for the local production of AIDS drugs are currently under examination by the State Drug Administration.
More suggestions
Liu Guiming, an official with the State Intellectual Property Office, thinks that Chinese medicine makers failed to study international law thoroughly enough to find some room for workable action.
"Chinese manufacturers can produce improved or changed AIDS drugs within the boundaries defined by international intellectual property rights law. This is a better approach than imposing compulsory licensing," he says.
And the use of traditional Chinese medicines in treating HIV/AIDS is another option.
Many medical experts have concluded after decades of research that traditional Chinese medicines have few side effects and are much cheaper than most commonly used Western medicines, as well as being effective in dealing with certain symptoms of HIV/AIDS.
In central China's Henan Province, pilot hospitals will be selected, along with the establishment of special teams of professionals, to explore the potential of treating AIDS and HIV with traditional Chinese medicines.
Experts and industry insiders expect that it will cost from 4,000 to 6,000 yuan (US$483-725) per patient per year to treat AIDS patients with a combination of traditional Chinese medicines and chemical drugs.
However, the State Food and Drug Administration (SFDA) is very cautious in handing out licences for such work, since the curative effects, as well as possible side effects, of traditional Chinese medicines are still uncertain in this area.
Some also say that insurance is another potential avenue.
"It is drug prices that block availability to patients. Price reductions can reduce but not eliminate the problem," said an expert who declined to be named.
"The root solution is medical insurance." he added.
Statistics show that in developed countries, drugs are much more expensive than in developing countries. Although people's incomes in developed countries are much higher, they shoulder only a very small part of their medical bills.
In May this year, China's Ministry of Labor and Social Security announced that AIDS has been put on the list of medical insurance diseases and the administration is working on a list of drugs that will be covered by insurance.
(China Daily June 28, 2004)