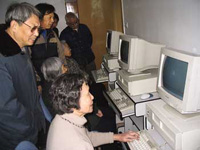 A growing number of Shanghai senior citizens are connecting up to the Internet, surfing Websites, playing computer games and even engaging in cyber love.
The Shanghai Research Center on Aging, which has organized a campaign aimed at getting local older people online, said the number of senior netizens has doubled to reach 100,000.
The campaign was launched last October.
The majority of senior Netizens are aged between 55 and 60, the center said.
There are some well-educated people and engineers aged around 70.
"Getting online has become an important part of life for older people, especially those who are retired and have lots of spare time," said Sun Pengbiao, the center's deputy director.
More than 50 percent of aged people would log on for fun including game playing or watching a news flash.
The center said many elders are actually connecting to join online chat rooms.
"Since most of us now live independently in separate apartments, there is really only a slim chance we will get out and meet new friends," said Liu Xunhong, a 65-year-old retiree.
"The Internet is really a wonderful time-killer and you can make a lot more friends."
Retired in 1999, Liu's first experience with computers was in 2000, when his son brought one home.
Watching his son and daughter-in-law always wanting to be online, Liu said that he was always puzzled and intrigued.
"My understanding of computers was an intelligent machine that handles complicated work for human beings."
"I could hardly imagine what on earth was so exciting on the Internet," said the retired technician.
Curiosity drove Liu to secretly turn on the computer after his son and daughter-in-law went to work.
"The infinite information really amazed me and I suddenly felt that I was in an exciting space that was just waiting to be explored," Liu said.
Liu became a registered member at the Website www.oldkids.com.cn.
Currently, Liu spends about three hours chatting with his net friends every day. He discusses various topics from family chores to world news.
"Emotional communication and even developing cyber love is quite popular among the elderly," said Zhang Zhi'an, CEO of oldkids.com.
Zhang said at least five couples have been brought together and married because of the Website which was launched in 2001.
Zhang Zhongru, sociologist at Shanghai University, said that the rising senior netizen population reflected a desire to follow the trends.
"We shouldn't judge the elderly. They are also eager to learn new things," Zhang said.
(Shanghai Daily June 30, 2004)