A new, modern talent market is to be established in Futian District by the end of next year to replace the existing one in Luohu District.

Chen Anren, director general of the Shenzhen Municipal Personnel Bureau, made the announcement at a foundation laying ceremony for the Shenzhen Talents Park on Tuesday.

Covering an area of 44,500 square meters near the Zhuzilin Metro station on Shennan Thoroughfare, the new talent market will integrate a talent exchange and training center, conference rooms, office buildings and public park when completed next year.

Since the city's talent market was established in Luohu District in 1997, more than 200,000 enterprises and more than 10 million jobseekers have taken advantage of the market, making it one of the most dynamic talent markets in the country, Chen said.

"However, the current talent market has a building area of only about 20,000 square meters, which no longer matches the city's social and economic development," Chen said.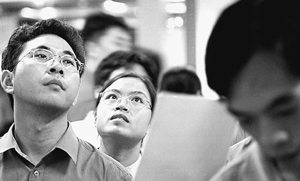 When Shenzhen was established in 1980, the city had no more than 20,000 professionals, but today it has more than 1 million, Chen said.

"The total number of 1 million talents today is far from enough for Shenzhen to realize the goal of becoming an international city," Chen said.

The establishment of Shenzhen Talents Park would provide a new opportunity for further development of the talent market in the city.

(Shenzhen Daily October 13, 2004)